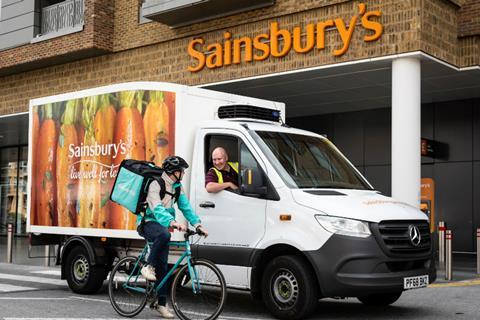 Sainsbury's has signed a two-year contract with Deliveroo to deliver groceries from 100 of its stores across the country. The supermarket has also extended its partnership with Uber Eats to cover the same number of stores.
The expansion of the Deliveroo trial, which started with 10 stores last November, means around 30% of the UK population can now access Sainsbury's products via the platform. Of the new stores turning on the service today, 22 are in London with the rest in various cities including Glasgow, Liverpool, Newcastle, Leeds, Aberdeen and York.
Among the new Sainsbury's locations launching with Uber Eats – after 25 stores came onto the platform in 2020 – are stores in Manchester, Birmingham, Leeds, Nottingham, Edinburgh, Glasgow, Liverpool, Northampton and Portsmouth.
Working with Deliveroo "has helped us offer home grocery deliveries to even more customers, bringing them a super-fast service when they need something in a hurry. We know how much Sainsbury's customers value being able to shop for food as quickly and conveniently as possible and we're delighted to be able to expand this service further," said Nigel Blunt, Sainsbury's director of ecommerce. Of Uber Eats, Blunt said the partnership had "helped us increase our home grocery delivery capacity".
Deliveroo and Uber Eats users can shop from a choice of around 1,000 own-label and branded SKUs. The range on the platform includes Taste the Difference ready meals, fresh fruit and vegetables, free-from products and store cupboard essentials.
Deliveroo also revealed the top five products its customers had been picking up from Sainsbury's since November, namely Sainsbury's Fairtrade bananas, Sainsbury's British semi-skimmed milk, Sainsbury's whole cucumbers, By Sainsbury's avocados and Sainsbury's Woodland free-range large eggs.
"We are delighted to announce this expansion of our new partnership with Sainsbury's, which has proved so popular with customers," said Eric French, chief marketplace officer at Deliveroo.
"Deliveroo's on-demand grocery partnerships have proven vital for so many people during the pandemic, allowing families to get the food and household items they need and want quickly. We are excited to continue expanding this partnership in the weeks ahead and offer Sainsbury's amazing products to even more customers across the UK," French added.
The announcement comes as a much-needed boost for the Deliveroo, which has had a disappointing debut on the London Stock Exchange after floating last month.
Uber Eats' general manager Toussaint Wattinne said: "The addition of these new stores will provide greater convenience for customers across the country at a time when home delivery options are so important."