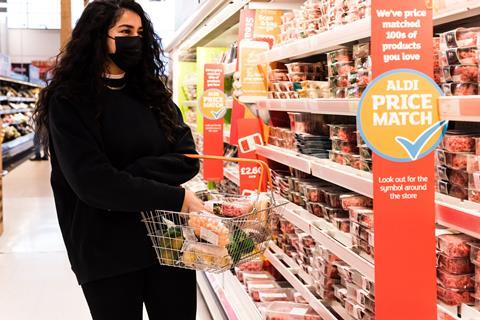 Sainsbury's raised the price of some products in its campaign to 'match' Aldi for value, The Grocer can reveal.
Sainsbury's 'Aldi Price Match' campaign saw it claim last week that about 250 products were now priced the same as a comparable one at the discounter.
But analysis by The Grocer has revealed eight of the 250 Sainsbury's products went up in price as it launched the campaign. They consisted of seven own label products plus a bottle of Newcastle Brown Ale.
All went up between 3 and 17 February this year, having been consistently cheaper since at least November 2020, analysis of pricing data from Edge by Ascential found. The average price rise was 11p, or 9.4%.
The biggest increase was on Sainsbury's own label budget courgettes, which rose by 40p, or 21%, from £1.90 to £2.30. Next was Sainsbury's own label budget ice cream, which went from £1 to £1.19.
Own label tinned chicken curry went from 90p to £1.05 – but had already risen in price from 59p since 20 January this year. It had been 59p since at least November.
The increases were also spotted by Aldi, which argues Sainsbury's raised the price of some low-tier own label products to 'match' its higher-tier ones.
It's claimed Sainsbury's own label brioche burger buns, which went from 90p to 95p for four to 'match' Aldi's 'Specially Selected' brioche burger buns, would be better compared to the discounter's more basic 'Village Bakery' option at 59p for four.
It's one of a number of comparisons on which Sainsbury's could be challenged by Aldi. Others include a four-pack of Sainsbury's 4% ABV Crown Lager, matched with Aldi's 4.8% St Etienne Lager at a pro-rated price of £3.07. It's claimed a truer comparison would be Aldi's Galahad Lager which, like Sainsbury's Crown, is 4% ABV, but costs £2.09 for four.
However, it is not yet clear how or whether Aldi plans to respond.
A Sainsbury's spokeswoman said: "There are around 250 Sainsbury's quality products now at Aldi prices and the vast majority of these have gone down in price. The commitment will mean our customers can be confident that they are getting the quality they expect from Sainsbury's at great prices, and without having to shop elsewhere.
"Product prices change all the time for a variety of reasons but we are committed to delivering consistent value for customers."