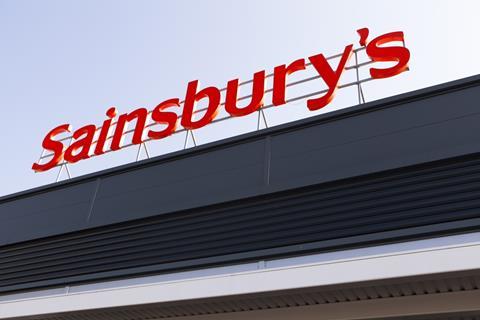 That booming supermarket sales during the coronavirus pandemic have not translated to a higher bottom line cannot be a surprise to the market, yet Sainsbury's was the latest grocer to see its share price fall after one-off costs drove it to an annual loss.
The supermarket plunged into the red on Wednesday after £485m of Covid-related costs, and more than £600m of restructuring charges for its Argos transformation programme, more than offset a surge in revenues over the past year.
Underlying pre-tax profits at the group slumped 39% to £356m in the year ended 6 March 2021, despite a 7.3% jump in retail sales to £28.8bn.
On a statutory basis, the supermarket fell to a £261m pre-tax loss for the year as a result of more than £617m of exceptional charges, largely related to the closure of 170 Argos stores. The business also stumped up £485m on staff bonuses and safety measures to see it through the pandemic.
A sharp uptick in organic sales was driven by a 7.8% rise in grocery sales, with Argos sales 10.9% higher and digital sales overall more than doubling to £12.1bn. However, total group revenues fell 0.3% to £32.3bn as fuel sales tanked by 39%.
Sainsbury's shares fell back 2.9% to 235p on Wednesday driven by the scale of the one-off costs it absorbed during the year. However, the shares remain close to two-year highs, having been boosted by recent bid speculation, and remain 12% up on pre-Covid levels.
Notably, Sainsbury's said its profitably had grown its online grocery business, where it was sales rise by 120% as it accounted for 17% of total grocery sales compared to 8% in the previous year. Argos digital sales also increased 68%, while improving profitability.
Susannah Streeter, analyst at Hargreaves Lansdown, said: "The extent to which customer behaviour is changing now that the virus has been suppressed and restrictions on shopping have been lifted, is far from clear. That's why Sainsbury's, like many other retailers, views the future as uncertain."
A more upbeat Clive Black at Shore Capital hailed new CEO Simon Roberts' impact on the supermarket, reiterating its 'buy' rating with due to the "prospect medium-term earnings growth, aided by profitable online activity"
"We see a self-improving business operating in a sector with improved economics," he said. "We also see an industry displaying sustained capital discipline, a better relative pricing position to the German discount chains and ongoing attention to the management of operating costs."