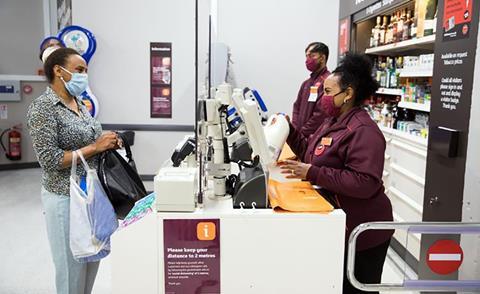 Sainsbury's has plunged into the red after £485m of Covid-related costs and more than £600m of restructuring charges for its Argos transformation programme more than offset a surge in revenues over the past year.
Underlying pre-tax profits at the group slumped 39% to £356m in the year ended 6 March 2021, despite a 7.3% jump in retail sales to £28.8bn. Total group revenues were 0.3% down on the prior year at £32.3bn as fuel sales tanked by 39%, with customers filling up less during lockdown.
Like its rivals in the sector, Sainsbury's has ploughed huge sums into making its stores safe for customers during the coronavirus pandemic, as well as recruiting thousands more staff, paying out thank-you payments to employees and investing in scaling up its online offering. It also followed Tesco in paying back hundreds of millions of pounds in business rates relief.
However, the pandemic has resulted in a sustained uptick in turnover, with grocery sales for the year up 7.8%, Argos sales 10.9% higher and digital sales overall more than doubling to £12.1bn.
Sainsbury's also said it had profitably grown its online grocery business, with sales up 120%, and gained more market share than key rivals. Online shopping now accounts for 17% of grocery sales, compared with 8% in the previous year, and is able to fulfill more than 850,000 orders a week.
Argos digital sales also increased 68%, while improving profitability.
Despite the growth, Sainsbury's posted a £261m pre-tax loss for the year as a result of more than £600m of exceptional costs related to its transformation plan to integrate Argos more closely with the supermarket business.
The closure of about 420 Argos stores, as well as simplifying the logistics network, led to restructuring costs of £423m, while a combination of Covid and the accelerated integration programme resulted in impairment charges of £220m.
Sainsbury's said changes it had made through the pandemic were creating good momentum as it moved into the new financial year.
Profits are expected to come back strongly in the current financial year, with a forecast for underlying pre-tax profits of about £620m, comfortably exceeding the £586m logged in 2019/20.
CEO Simon Roberts said the financial results this year had been heavily influenced by the pandemic.
"Food and Argos sales are significantly higher, but the cost of keeping colleagues and customers safe during the pandemic has been high."
He added: "We have a bold three-year plan to put food back at the heart of Sainsbury's and drive improved performance. We are transforming the way we work and I am encouraged by how all of our teams have responded and the early momentum and performance towards our plan.
"We have accelerated our digital transformation this year as we focus on serving customers however they want to shop with us. We have more than doubled our online grocery sales and have done this while improving profitability. Argos digital sales grew almost 70% and our Argos transformation plan is on track to improve customer availability while reducing our costs.
"Like our customers, we are all looking forward to things feeling more normal over the coming months and getting excited about a summer of celebration, but we are also cautious about the economic outlook. While there is much that we cannot predict in the year ahead, we are absolutely focused on delivering for our customers and shareholders."
Shares in Sainsbury's fell 2.2% to 236.9p as markets opened this morning.