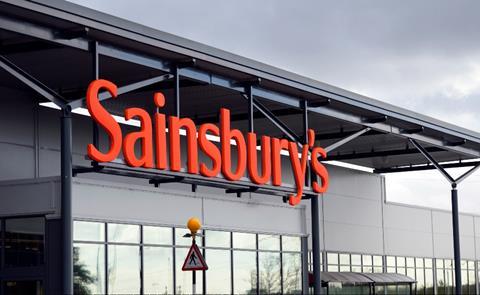 Sainsbury's has unveiled a new brand tagline – 'Helping everyone eat better' – to reflect its focus on becoming more environmentally conscious and giving customers value for money.
The supermarket will swap out its decade-old 'Live Well for Less' strapline in the coming months. The new slogan better reflected how its food could be healthy, sustainable and affordable, it said.
Sainsbury's said all customers "deserve to eat well" no matter their budget. It added it would share more details about what its new slogan would mean for employees and customers in "the coming months".
Sainsbury's has also been named the principal supermarket for the 2021 United Nations Climate Change Conference (COP26) in Glasgow. It will share its knowledge of the impact of climate change and how to prevent it alongside climate experts, businesses and world leaders at the conference in November.
This follows several recent steps the supermarket has taken in an effort to reduce its impact on the environment and reduce prices for customers. It is aiming to achieve net zero by 2040 in its own operations through a £1bn investment over the next 20 years, which is 10 years ahead of the UK-wide aim set out by the government as part of the UN Paris Agreement to reduce global warming to at least 2°C.
This commitment has already seen Sainsbury's swap its manual pallet trucks with more energy-efficient versions, claiming a UK supermarket first in doing so. It switched the pallet trucks used by its in-store employees for pro-lifters and kinetic-powered ones, while those in the stock room now use lithium-ion trucks in place of lead acid battery manual equipment.
Sainsbury's also bolstered the value of the government's Healthy Start vouchers scheme by £2 and launched an initiative last week to price match Aldi on around 250 products, though The Grocer reported it had increased prices on eight of the lines just as it introduced the campaign.
"We believe that everyone wants to play their part and reduce their impact on the planet – and that we can help shoppers find simple ways to make delicious, great value food healthier and more environmentally friendly, one plate at a time, said Sainsbury's CEO Simon Roberts. "We have long recognised our responsibility to protect the environment and I'm extremely proud that we continue to lead the charge. Tackling climate change requires transformational thinking across industry and government and a willingness to collaborate globally.
"We are delighted to partner with COP26 and hope that it inspires our colleagues, customers and other businesses to rally together to protect and restore our planet for future generations to come."
Alok Sharma, president of COP26, added: "Businesses have a key role to play in helping us build back greener and Sainsbury's has shown strong leadership by making a clear commitment to combating climate change through science-based measures, as well as reducing plastic packaging and empowering consumers to make more sustainable choices. I am delighted to welcome them as a principal partner for COP26."