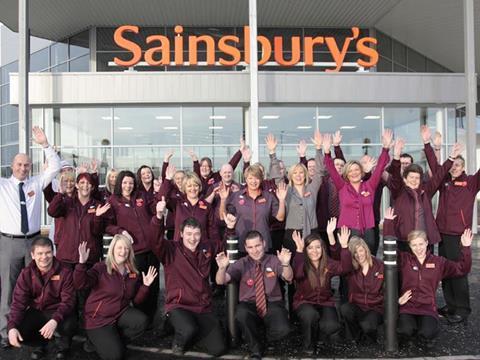 Sainsbury's is to increase its national minimum hourly pay rate to £9.50 from March.
It's an increase from £9.30 for a Sainsbury's employee and from £9 for an Argos employee, aligning the two.
In London's zones one and two, the minimum rate for both will rise from £9.90 to £10.10.
Staff are also set to receive a bonus worth 3% of their annual salary, paid in March to store staff and in May to distribution staff. It will mean £530 on top of the usual minimum shopfloor pay cheque.
It will be the third one-off payment for frontline Sainsbury's staff in the past year. It follows all frontline Sainsbury's and Argos staff receiving a 10% top-up on the hours they worked between 8 March and 5 April 2020, and 10% extra on top of four weeks' pay in November 2020.
Sainsbury's said it had boosted staff pay by 24% over the past five years.
The retailer said it had invested more than £100m in recognising its team for their "incredible efforts to help feed the nation" since the Covid-19 outbreak struck, through its pay rises and bonuses.
"In the last 12 months our frontline colleagues have shown outstanding commitment to our customers," said Clodagh Moriarty, retail and digital director at Sainsbury's. "In recognition of everything they have achieved, we are giving them a pay rise, plus an additional one-off payment.
"I feel so proud and humbled by the dedication our colleagues have shown day in, day out and would like to thank everyone for the part they have played in helping to feed the nation throughout an extraordinary year."
The pay boost has come under fire from union Usdaw for falling short compared with rival Morrisons, which committed to pay its team members at least £10 per hour from April. Usdaw, which represents around 40,000 Sainsbury's and Argos staff members, urged Sainsbury's to invest further in its hourly pay rate rather than offer bonuses, which can "impact those in receipt of in-work benefits".
"Sainsbury's staff have worked throughout pandemic to keep the nation fed, facing increased abuse from customers and worrying about catching Covid-19 over the last year," said Usdaw national officer Dave Gill. "As key workers delivering an essential service, they deserve much better than the additional 20p per hour on offer, particularly after only receiving a 1.3% increase last year.
"The deal offers a higher increase for Argos workers of around 6%, which is welcome, but they also deserve better. Most Argos staff also worked throughout the pandemic, with many being redeployed into Sainsbury's stores supporting the food retail side of the business."