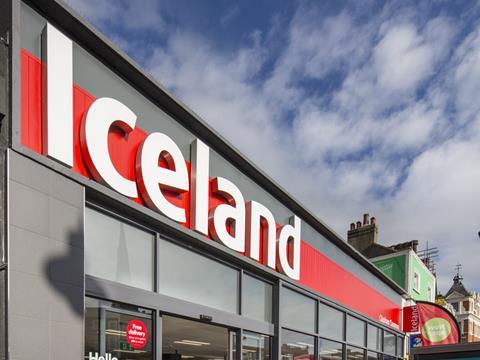 Iceland made an £8.8m loss after tax in the year to 26 March 2021, despite growing sales by 16.2% to £3.8bn.
It's a marked improvement on the previous year, when Iceland reported a loss after tax of £71.8m.
The latest accounting period included an advance of £108.5m to Iceland's family shareholders' holding company, WDFF, in order for them to pay Brait SE for the return of the business to full family ownership. An £8.6m share buyback was also executed as part of the process.
Cash balances at the year end were £125.5m, £12m below expectations following the loss of a supply chain finance facility provided by Greensill Capital, which filed for insolvency in March this year.
The supermarket continued to incur substantial Covid-related costs throughout the period according to group accounts filed at Companies House. They included recruiting and training 5,300 additional staff, retention on full pay of staff self-isolating under government guidelines and extra store security personnel to enforce social distancing.
However, the costs were partially offset by business rates relief which Iceland was "grateful to the government for providing". The result was exceptional expenses of £0.2m, compared with £19.3m the previous year.
Adjusted EBITDA, excluding exceptional items such as Covid costs, rose 31.9% to £176.4m, while adjusted net profit before tax shot from £24.2m to £67.9m.
The group opened 20 new Food Warehouse stores, taking the estate to 141. Meanwhile, three Iceland stores were opened and eight closed. One of the closed Iceland stores reopened in March this year as 'Swift', Iceland's new convenience format.
Online capacity was grown to a potential million deliveries week, helped by a 20% expansion of the vehicle fleet and the thousands of recruited store staff and drivers. Maintaining good slot availably while rivals struggled to meet surging demand brought the business "many new customers who have never shopped at Iceland before".
The business also reached new customers through its strategic alliance with The Range, which saw the home, leisure and garden retailer add Iceland departments to 39 of its stores during the period, bringing the total to 86.
During the year Iceland also "strengthened our commercial partnership with The Range and now supply the complete grocery range offered in those stores where a dedicated Iceland department has yet to be established," the accounts said.
Internationally, Iceland now serves its own label products to partners in 40 countries, including its network of franchise stores.
"Brexit initially caused sporadic delays in the supply of our products within the EU, including our company-owned stores in Ireland and franchise stores in Spain, but these have diminished as we, our suppliers and the border authorities have learned to work more smoothly under these new post-Brexit arrangements," the accounts said.
On Iceland's outlook, the accounts said it should be noted that footfall in high streets and shopping centres where many of its core stores were located remained 30% below 2019 levels.