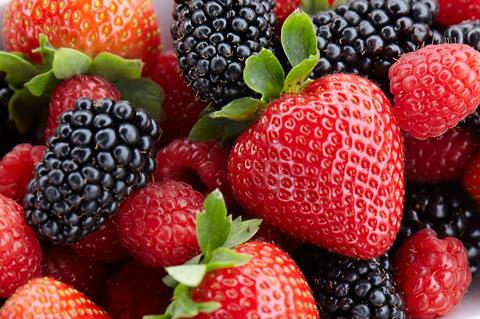 Berry sales have remained unseasonably high during the winter months amid continued Covid-related consumer demand for healthy foods.
Kantar data showed value sales grew £62.2m (11%) year on year to £629.9m from autumn 2020 to this spring, while volume sales also rose by 7.3% off the back of a 3.8% boost in volume per shopper and a 10.1% leap in purchase frequency [Kantar 24 w/e 21 March 2021].
Strawberries – the largest berries segment – contributed almost half of the value growth, adding £30.8m (14.8%). Much of this rise had been driven by a 10% increase (3.5% across the berry category) in average prices, which Kantar said was caused by consumers opting for larger packs and trading up from economy to standard and premium tiers.
Overall, health trends and the consumer behaviour seen during the pandemic had been responsible for these market changes, said Joe Shaw Roberts, consumer insight director at Kantar.
"Holistic health, where you're getting all your nutrients, fibre, et cetera, is the type of health that's growing rather than calorie counting and is in produce's favour in general. It's a health trend we see growing long term," he said.
"Shoppers have been buying berries on many more trips. Although we've been going to the supermarkets less overall, berries have been finding their way into more baskets. They're more relevant items for the different occasions we've been having in-home."
These included as healthy snacking options and dessert accompaniments, Shaw Roberts added.
Looking ahead to the probable further easing of Covid restrictions in the coming months, consumer behaviour was likely to change, he said.
"You'll see more out-of-home consumption and with that you'll see a shift to convenience on the high street. Snacking-style items, like prepared fruit and blueberries, tend to do really well. I think we'll see the growth continue and more of it will shift out of home," Shaw Roberts added.
"Now might be the time to start thinking about shifting down to smaller pack sizes again. If we're looking for on-the-go items, we're not going to be looking for huge packs of fruit."
Industry figures echoed the Kantar data, with British Summer Fruits chairman Nick Marston putting the recent success down to production developments that had improved eating quality and availability.
"Berry crops are short cycle on annual or biennial planting. It means you can bring in better varieties very quickly, so you're seeing an ongoing improvement in the product," Marston said.
"I see no reason why we won't see ongoing growth given the concerns everyone has for their general health and the health and wellbeing properties of berries."
One leading supplier told The Grocer it had seen "record numbers" of berries heading through its packhouses in February. On one day, it had packed 100,000 (25%) more punnets than it had ever previously managed in 24 hours.