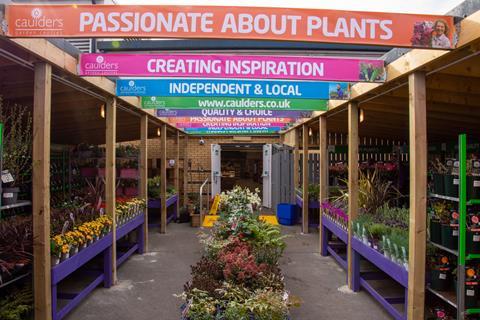 Scotmid Co-op has opened its first ever pop-up garden centre.
The 1,700 sq ft pop-up launched at its Uddingston store in South Lanarkshire last week in partnership with Caulders Garden Centres.
'Caulders at Scotmid' offers shoppers an array of gardening goods from 300 lines, including seasonal bedding plants, vegetable plants, houseplants, firepits and chimineas, garden décor, compost and fertilisers.
Employees from Caulders will be managing the pop-up, and are available to offer customers specialist advice on the products and plants for every level of gardener.
"As more people have taken up gardening in the past year, we decided to explore how to expand our offer to help nurture a passion for plants," said Kirsty George, local sourcing manager at Scotmid.
"We sought out Caulders as a partner since they are known for providing a fantastic range and quality to their customers, and we are delighted to work with them to grow our seasonal range in Uddingston.
"We're hopeful that we may be able to bring this partnership to other Scotmid locations in the future, too."
The society said because its Uddingston store had a larger format, it had been able to have "both an inside and outside presence".
The 400 sq ft internal set-up has been included as part of Scotmid's seasonal offer space, while outside it has custom built a secure 1,300 sq ft fenced-off space utilising a yard that forms part of the store site.
It said this was intended so customers felt they were getting "the full Caulders experience at a Scotmid store".
Caulders Garden Centres MD Colin Barrie said: "We are delighted to work with Scotmid to provide their customers in Uddingston with the best garden care products available.
"Now's the time to get digging and planting – and we hope that bringing our wide range of gardening supplies to Scotmid will help Uddingston's gardeners get started this spring."
Caulders at Scotmid is open from 9am to 5pm, seven days a week until 30 June.