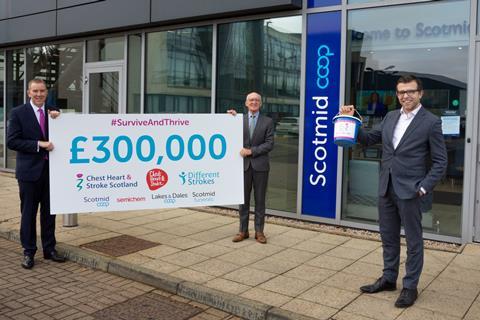 Scotmid Co-op has donated £300,000 to three charities across the UK that support stroke survivors.
The funding will go towards services provided by Chest Heart & Stroke Scotland, which will see six months of support given to 1,000 stroke survivors across communities in Scotland.
It will also be donated to Northern Ireland Chest Heart & Stroke and England's Different Strokes, which have all come together as part of the Scotmid partnership.
Staff from Scotmid and Scotmid Funerals, as well as Semichem and Lakes & Dales stores, which are other businesses that run under Scotmid Co-operative, took part in fundraising events such as a Forth Bridge abseil, an eight-hour relay challenge, and Munro bagging.
When the pandemic hit, they began fundraising through head-shaves and virtual marathons to ensure they could keep supporting stroke survivors.
"In September 2019, we set ourselves the ambitious target of raising £300,000 to fund vital stroke rehabilitation support services," said Scotmid CEO John Brodie.
"One in five people in the communities we serve will be affected by chest, heart or stroke conditions," he added. "Raising these funds and awareness enforces our core purpose to serve our communities and to improve people's everyday lives."
Chest Heart & Stroke Scotland CEO Jane-Claire Judson said: "I want to say a massive thank you to everyone at Scotmid for the amazing charity partnership we have shared.
"The amount of energy that everyone at Scotmid have put into the partnership has been really inspiring to me and everyone here at Chest Heart & Stroke Scotland.
"Thank you so much for the support that you have given hundreds of people across the country that I know will be so grateful for everything you have done for them. Our services support people after a stroke to regain their confidence, achieve their personal goals and get back to doing the things they love."