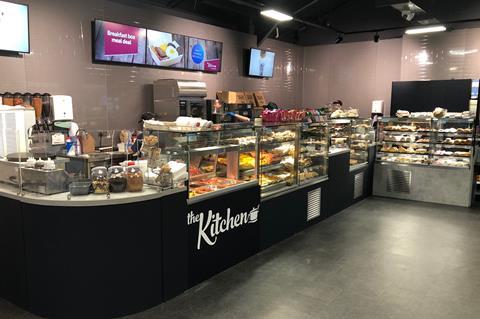 Scotmid has relaunched its food-to-go concept The Kitchen at its Uddingston store in a six-figure investment.
The 900 sq ft standalone area is now home to a swathe of new sub-concepts and products, including the Sweet Cravings Dessert Bar, which offers milkshakes, ice cream sundaes, hot waffles and crêpes.
There is also the La Tua pasta bar, which cooks to order, and an artisan cheesecake counter that includes lemon meringue and raspberry ripple flavours.
Shoppers can also enjoy its Pizza Art concept that offers made-to-order 12-inch sourdough pizzas. It also provides an extended breakfast range on top of its original offering.
"We are evolving the offer all the time and expanding it with the view to create a compelling, quality food-to-go customer offer which gives them a reason to visit our stores ahead of the local competition, day in day out," Scotmid food-to-go operations manager Danny Scobie told The Grocer.
"Food to go has continued to grow significantly for the business despite the Covid pandemic," he added. "This is because the business has continued to invest and innovate during this period, whilst continuing to deliver high-quality freshly made food to go across the full estate."
The project was led by David Greenshields from its property team. The food development concept and product work were completed by food-to-go sales development manager Rebecca Walker, along with the key supply partners.
The Scottish co-op society said it sourced most of the products from local suppliers. "We work in partnership with them to create unique reasons to visit our stores," Scobie added.
"We also work with larger partners with the likes of Costa, Kepak and Creative Foods, to again find ways to drive great-quality food and drink offer for our customers."
The Kitchen is offered across Scotmid's entire 189-store estate. It usually offers a craft bakery of savoury foods, fresh cakes, made-in-store baguettes, hot food for breakfast, as well as burgers and chicken.
"We continue to apply our learnings and evolution of the offer to our stores as we continue to invest with large investment and refitting of the Kitchen areas on an ongoing basis," added Scobie.
"The new concepts of Sweet Cravings and La Tua Pasta will be evaluated and then extended to the right stores based on a success criteria."