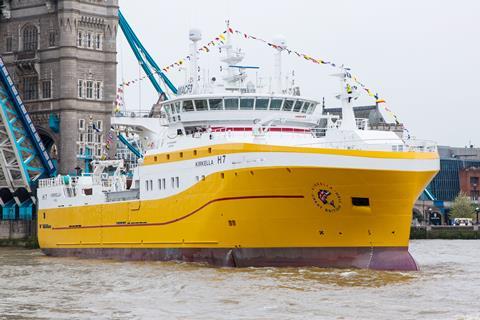 A war of words has erupted between Scottish fishers groups and Hull-based company UK Fisheries over last-ditch efforts by MPs to secure access for UK-flagged vessels to neighbouring states' coastal waters.
The Scottish Pelagic Fishermen's Association and the Shetland Fishermen's Association both urged the government to resist calls from Hull-based business UK Fisheries and MPs to chase a deal with Norway for 2021, ahead of a debate on the issue in parliament yesterday (27 May).
Last month, the UK and Norway failed to reach an agreement over access to each other's waters for this year, which meant quotas, such as those of mackerel and sardines, were not traded for access to Norway's cod stocks – catches typically accessed by UK Fisheries with its vessel Kirkella.
SPFA and SFA claimed this outcome meant the link between Arctic cod and what it called "Scottish fish" had been "broken" – a move that would benefit its fishers. The organisations added in strong terms that a decision to once again push for a deal this year would only stand to benefit "foreign" interests.
"[Kirkella] operates out of Hull, but is owned primarily by Dutch and Icelandic interests, is largely operated by a non-UK crew and processes its catch on board," claimed SPFA CEO Ian Gatt.
"The owners have already secured 5,500 tonnes of Svalbard cod quota and an associated 14% haddock bycatch – equivalent to the entire North Sea cod quota for the UK fleet. And yet on top of this deal they want even more from the Arctic, paid for with Scottish quotas."
This statement came in for heavy criticism from UK Fisheries.
"Ian Gatt knows full well that UK Fisheries is a British company, registered and paying all of its taxes in the UK and investing all of its operating surplus into the fishing industry in the Humberside region. He also knows that over 75% of our crews are British – to say anything else is a lie, pure and simple," said a spokesman.
"Attempts like this to whip up sentiment against foreign investors in the UK economy are frankly despicable. Without our Dutch and Icelandic shareholders there would be no distant waters fishing out of Hull.
"At the moment our crews have no work, which is clearly to the liking of the SPFA and the SFA, but is a disaster for a fleet that is the last remnant of a British industry that has kept our country – including Scotland – fed for centuries."
He added the 2021 catching season was expected to be a "write-off" for Kirkella, which has gone into a Norwegian dry dock for maintenance due to the lack of fishing opportunities. UK Fisheries ships were on "life support", he continued, and optimism for next year's UK negotiations with Norway and other coastal states, such as Iceland – set to begin in September – was low.
The spokesman invited Ian Gatt to visit Hull to ask UK Fisheries crews directly where they had come from.
In yesterday's parliamentary debate, Defra fisheries minister Victoria Prentis rejected requests from Labour MPs for Hull Emma Hardy and Karl Turner to make additional efforts to reach a deal with Norway for 2021.
"Our offer to Norway remains on the table and our door is completely open if the Norwegians wish to begin to negotiate with us again, but I re-emphasise that that must be based on fairness in the future," she told the House of Commons.
"There are still significant fishing opportunities for the Kirkella this year in Svalbard, and we will continue to work hard to make a deal for fishing opportunities next year."
Hardy said the UK fleet's "long-standing" fishing rights in the waters of Norway and Greenland had been worth millions of pounds and could not be replaced with quotas in UK waters.
Since Brexit, the government has signed a trilateral agreement with both the EU and Norway – a move that set catch limits for 2021 in six jointly-managed fisheries in the North Sea.
But it has failed to secure bilateral deals for this year – agreements on access to other nations' waters or quota exchanges – with Greenland, Iceland, the Faroe Islands and Norway. It has also set its own catches for stocks shared with the EU in the Channel, Atlantic Ocean and the Celtic, Irish and North seas after the two sides have thus far failed to reach an agreement.