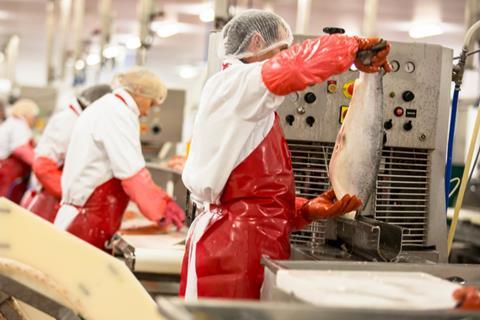 Scotland's salmon producers have called for the formation of a taskforce to solve the export issues which have blighted the Scottish seafood industry since Brexit.
Trade body the Scottish Salmon Producers Organisation has urged the UK government and Holyrood to form an expert working group made up of government ministers, senior officials, hauliers and agencies responsible for administering the new regulations, like Food Standards Scotland.
SSPO said this taskforce could iron out problems such as delays in processing export health certificates, IT problems and confusion over what documentation is needed to get products into the EU.
According to statistics from the organisation, the Scottish salmon sector lost £3m in the first week of 2021 due to cancelled orders, discounted fish and extra staffing costs. In an average January, Scottish firms would expect to export £23m of salmon.
Despite SSPO's CEO Tavish Scott saying salmon exports had been "coping" since Brexit, he warned these "big issues" needed to be resolved.
"Our customers in Europe need to know they can rely on our salmon arriving on time and, at the moment, we cannot always guarantee that," he said.
"We need to sort these problems out and the best way is not to apportion blame but to get all the experts round the table to work out what really needs to be done. That is why we have called for a joint, cross-border taskforce to be established. These problems are not insurmountable but we need to work together as a matter of urgency to get them sorted."
There have also been calls from the other side of the Channel for an improvement in the handling of UK seafood export issues.
Mareyage Boulonnais – the fish merchants union in the French city of Boulogne – called for "leniency" towards UK exports from the French authorities. Boulogne, which is one of France's key seafood processing centres, is said to be particularly reliant on UK imports.
It follows last week's announcement by the UK government that it would bail out some of the seafood exporters impacted by the new Brexit rules through a £23m support fund. While the move was welcomed by the sector, it has repeatedly called for the government to negotiate a grace period for EU exports.