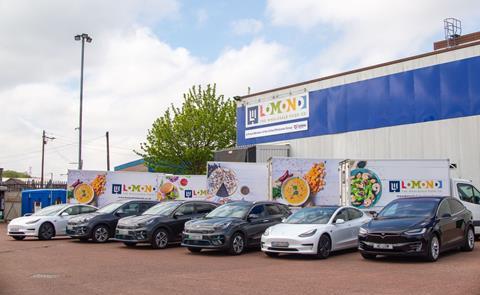 Scottish wholesaler Lomond Fine Foods has replaced the majority of its fleet with electric vehicles as it continues rolling out its sustainability programme.
This week the family-owned wholesaler added three Tesla and three Kia Niro vehicles to its fleet of sales team cars, as part of its ongoing policy to de-carbonise its vehicles.
It aims to purchase three more electric vehicles by the end of the year, which will result in 80% of the division's team travelling "in an eco-friendly way".
Lomond has also ordered 20 new 7.5 tonne hybrid refrigerated trucks to be delivered in June, to update its first hybrid fleet which was purchased four years ago.
The wholesaler plans to have its first 7.5 tonne hydrogen-powered van on the road by November this year.
Lomond director Barbara Henderson told The Grocer the business hoped to use this vehicle to deliver supplies for the UN Climate Change conference COP26 that month. "All of this has been helped immensely by a collaborative approach involving many forward thinking organisations and businesses in Scotland," she added.
"We're extremely proud of the steps we're taking to reduce our impact on the environment. These are exciting environmental and ethical developments in Scotland."
A hydrogen refuelling station is to be erected at the wholesaler's depot in Port Dundas, Glasgow.