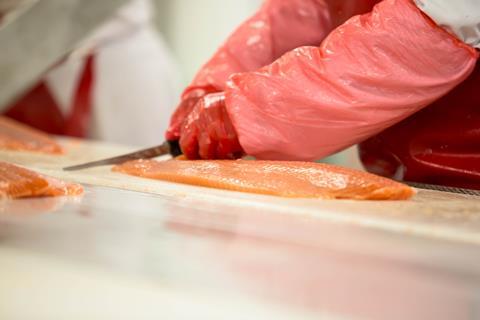 Seafood and meat exporters have urged the government to overhaul export health certificates amid continuing costly delays for shipments to the EU.
The Scottish Salmon Producers Organisation has called for the documentation to be "completely redrawn and simplified", a request echoed by the British Meat Processors Association.
Both organisations said exporters stood to face increased annual costs due to the extra red tape, with SSPO putting the figure at £2.5m per member per year and BMPA saying some of its membership could have to pay more than £10m annually for EHCs alone, with costs ranging from £155 to £200 per certificate.
Outlining the issues its members had faced, SSPO said processing EHCs had added at least two hours of delays per application compared with before Brexit – or more than four hours in egregious cases. But the organisation admitted this was an improvement on the even lengthier delays seen in January.
Delays were being exacerbated by the complexity of the forms, it added. Certifying officers were having to cross out boxes for products the supplier was not exporting to the EU across what could add up to 12 pages of documentation, it said.
This process had led to "confusion and mistakes" both in the UK and at EU border posts, according to SSPO. The organisation said these hold-ups had resulted in "lost orders, discounted sales and disgruntled customers".
"Seafood exports are fundamentally important for both the Scottish and UK economies," said SSPO CEO Tavish Scott. "Salmon is the UK's number one food export. So we need government to reduce the costs and complexity that our sector faces.
"Export health certificates were never designed for perishable products like salmon and therefore never should have been the document we are forced to use as exporters."
Scott added he had received verbal assurance from Cabinet Office minister Michael Gove that the UK government would look to redesign, re-draw and simplify the certificate.
However, it is understood such changes are not in the gift of the UK government as the certificates are EU documents drafted within EU legislation.
Defra said it was aiming to introduce changes to the way certifying officers completed forms to reduce delays as well as the errors recently seen at Scottish hubs and at the French border.
The department added that it had also been working with the French authorities to ensure goods have continued to flow into the EU, even if they carried small errors.
"We recognise the difficulties faced by UK seafood businesses affected by the Covid-19 pandemic and we are continuing to help them adjust to the new export requirements," said a spokesman.
Meanwhile, the BMPA said that while EHCs were an issue for its members, they could "not be viewed in isolation".
"It comes down to the fact that the entire export system is not designed to cope with a fast-moving fresh trade to near markets," said a spokeswoman. "If these systemic problems are to be properly addressed, the UK government needs to urgently re-engage with the EU."
She also urged the government not to delay setting up a trade specialised committee on sanitary and phytosanitary measures, which would "greatly assist in identifying and resolving bilateral issues".