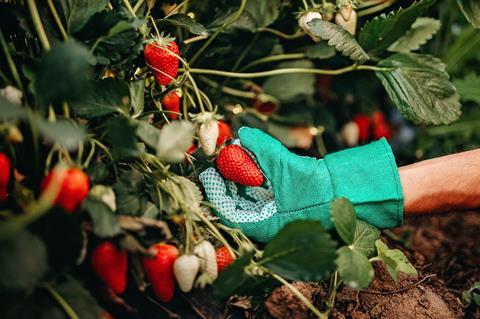 Crops are being left to rot as growers grapple with a shortage of seasonal labour, senior industry sources have warned.
While the lack of lorry drivers and the 'pingdemic' has hampered supply chains, getting fruit and veg out of the ground has also become a problem as it is understood there are not enough seasonal agricultural workers available in the country.
According to statistics from the Fresh Produce Consortium, growers are facing labour shortages of between 10% and 25% in picking, packing and driving roles.
Exact labour figures tend to be reported retrospectively but FPC CEO Nigel Jenney said he believed there were fewer workers who had come to the UK via the Seasonal Agricultural Workers Scheme pilot than the 30,000 permitted for 2021 – a situation that was "highly unlikely" to be resolved this season.
"I'm aware of companies having to bypass certain crops, particularly in extremes of weather. Harvesting is more difficult [during extreme weather] because the crops mature much more rapidly in certain circumstances [and it] makes it more difficult to manage and not waste the crop," he said.
"No matter how hard these businesses try, they simply can't fill the vacancies, either through direct employment or through using labour agencies. At this point in time the people just aren't there."
NFU horticulture and potatoes board chair Ali Capper also voiced concerns the sector was running short of seasonal staff. This lack of labour had "almost definitely" resulted in some fruit growers seeing some crop losses, she stated.
"Has it resulted in people working extra hours? Yes. Has it created huge stress and anxiety? Yes. Has it ended up costing more? Yes, because there was a desperation about getting the labour in and there were all sorts of issues around visas being issued late and extra flights being put on," Capper explained.
"There's a bigger concern now for growers trying to plan for next year because the [SAWS] scheme is not permanent, it's a pilot. The permanence of the scheme is a major ask of government."
Since the SAWS scheme was revived in 2018 – having been scrapped by the coalition government in 2013 after Bulgaria and Romania were admitted into the EU – it has only been conferred pilot status.
While the size of the pilot has grown from 2,500 worker visas in 2019 to 30,000 permits in 2021, its temporary status has not been altered despite the UK's official departure from the EU at the end of last year bringing to an end freedom of movement to and from continental Europe.
British Summer Fruits chairman Nick Marston told The Grocer that the government should also seek to expand "substantially" the number of permits available.
He said the number of workers coming back to growers via the settled and pre-settled status immigration route had fallen from 75% to 50% of the workforce. This situation was occurring because those pursuing this route were more likely to seek permanent roles.
"Most of the people coming in on SAWS visas [this year] have never done it before and quite a few don't have an understanding of what the job is. They're way less productive than a seasoned Romanian fruit picker who's been doing it for years," he said.
Defra has been approached for comment.
Marston added it was hard to quantify the scale of crop losses caused by labour shortages in the berry sector at the moment as, "people walk away from crops every year. It depends on when you walk away from them".
He explained berry growers were "just about alright" for labour owing to their crops being among the earliest in the season to come online.