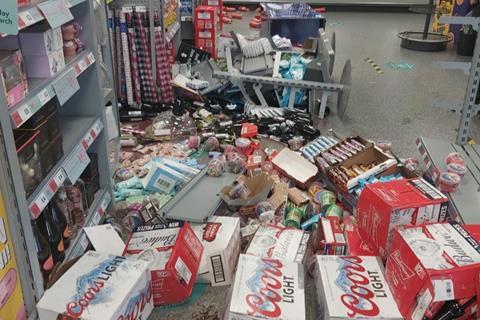 Shocking images have been released of an incident where a shopper had violently trashed a Central England Co-op store in Erdington, Birmingham.
The attack occurred last Thursday morning at its Marsh Lane store after a male customer verbally abused a female member of staff as she attempted to serve him.
Shortly after being asked to leave, the man returned and proceeded to push over displays and pull down fixtures and stands, causing extensive damage inside the store, before fleeing.
The police were called and colleagues are supporting them with their investigation.
"It is totally unacceptable for our colleagues to face abuse in any shape or form and we are offering full support to them and the entire team, and working closely with the local police force to bring those responsible to justice," said loss prevention manager Craig Goldie.
"We strongly condemn any form of abuse or violence towards our colleagues who are just doing their job and, as the images highlight, the behaviour of the offender and the level of damage he caused to the store was extremely shocking for the team to witness.
"These types of incidents reinforce our ongoing campaign calling for better protection for shopworkers and highlights our zero-tolerance policy on all types of crime aimed at our colleagues and customers.
"Once again, we are sending a clear message out to anyone who might consider targeting our colleagues and stores – it is not worth the risk and no crime will be tolerated."
Read more:
It comes after the retailer asked people to 'be kind' in a new campaign encouraging customers to treat shop colleagues with respect and reinforce the Co-op's long-term message to potential criminals that 'it is not worth the risk' of targeting them.
Recent research conducted by the society has shown that in the past 12 months, incidents of verbal abuse jumped by 167%, antisocial behaviour by 39%, assaults by 35% and threats by 16% compared with 2019.
The retailer also revealed 312 crimes related directly to Covid-19 have been recorded in stores since the start of the pandemic.
To help combat the problem, the retailer recently rolled out a raft of measures, including security assistance buttons and tracking devices on products to deter theft.
Central England Co-op has also been working with other major retailers, unions, industry bodies, police and crime commissioners and more than 200 MPs to lobby the government on shopworker abuse through the introduction of tougher penalties.