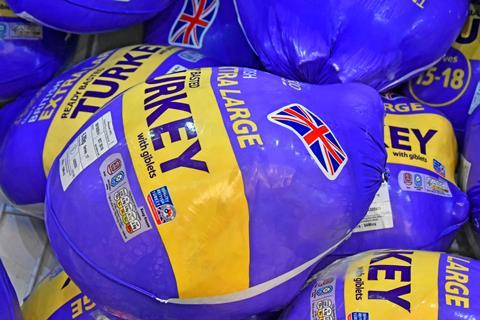 Turkey producers are facing an "inevitable" reshaping of their sector as a result of the labour crisis, with shoppers set to see less choice and a pivot back towards frozen Christmas turkeys, the boss of Avara Foods has warned.
The poultry giant's CEO Andy Dawkins said the widespread shortages of labour plaguing the sector – which would be exacerbated by a lack of experienced seasonal staff in the run-up to Christmas – would continue for the remainder of this year and into 2022 "and beyond".
"It will be almost impossible for this year's UK turkey campaign to survive as it was intended when we put it together," he added, citing the shortage of "key skills" in both butchery and slaughtering, which would slow down production, particularly of more labour-intensive cuts.
And these issues would continue into the future, unless the sector was able to source the seasonal workers it needed – and were currently unavailable – from Europe, Dawkins suggested. This would prompt a "structural change" in the way turkeys were sourced and ultimately consumed, he said.
Such a "labour-based squeeze" restricted the ability of processors like Avara to fulfil demand at the Christmas peak for fresh whole birds and added-value products such as saddles and crowns, he added.
"Over the past 15 years, we've seen a real improvement in production, with suppliers working collaboratively with their customers to plan their Christmas mix and produce more fresh units in December," Dawkins said.
"But I think that could change. We may see less of an uplift at Christmas and a swing back to a greater reliance of frozen birds produced over the other 10 months of the year," he added. He also warned any impact on fresh volumes could drive inflation in the fresh turkey category.
His comments follow warnings by British Poultry Council CEO Richard Griffiths – first published by The Grocer last week – that UK poultry processors were expecting a 20% reduction in available fresh turkey volumes this Christmas, due to insufficient levels of staff to "slaughter, process, pack and dispatch" the numbers expected at the start of the year.
2 Sisters Food Group president Ranjit Singh has also been vocal on the issue of labour shortages, warning last month that Christmas turkey supplies were under threat amid "a food crisis like we've never seen before".
Dawkins said the BPC's characterisation of the current situation was "not a million miles away" from what Avara was seeing. However, he also warned it was "equally possible things could get worse" over the coming weeks.
"In my whole career, I don't think I've ever been in a situation where we've seen such a structural change affecting all UK business simultaneously," he said. "It's a post-Brexit consequence that has been accelerated by Covid and it's changed the shape of the labour market for good."
However, Dawkins stressed shoppers would not see a dip in quality from more frozen UK turkeys, even if choice was affected.
"We've put a lot of effort into making certain frozen birds are as good a quality as those that would go fresh in the bag," he said. "I don't think anyone will be short-changed by frozen, but it may be the best deal in town if shoppers want an affordable turkey at Christmas in years to come."