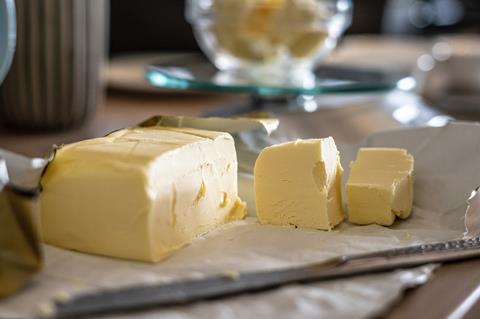 More than a third (39%) of shoppers made the switch from butter to margarine and non-dairy spreads during lockdown, according to research into pandemic diet changes for Flora owner Upfield.
About a tenth of the 2,511 UK adults surveyed on behalf of the supplier earlier this month said they had tried to increase the number of plant-based products they purchased, the poll found. This figure almost doubled to one in five for the 18 to 24 age bracket, Upfield said.
Pre-lockdown, taste (45%) and value for money (24%) were the main focuses when doing the food shop over how healthy (16%) those items might be.
However, over half of Brits (53%) had now become increasingly aware of eating more healthily, the supplier added.
This was particularly true of young people in the UK, with over two thirds (68%) of 18 to 24-year-olds confirming they had become more aware of eating healthily since March 2020.
These changes in behaviour meant 66% had altered the content of shopping baskets since the start of the pandemic, rising to 84% in the 18-24 age bracket.
And as a result, some 13% said they had bought less meat, with a further 10% buying less dairy as part of their regular food shop.
Upfield said health and food consciousness continued to be a factor that influenced people's shopping, with 34% saying they had started purchasing more fresh fruit and 15% reducing the amount of alcohol they bought.
Meanwhile, 51% said they would be inclined to purchase margarine and non-dairy spreads once they found out it contained only natural ingredients. This was especially true of younger people, jumping to 57% of 18 to 24-year-olds and 63% for those between the ages of 25 and 34.
The survey follows a strong showing for plant-based during Veganuary, with an estimated million-and-a-half people in Britain adopting a vegan or vegetarian diet as a result of this year's campaign, which attracted a record 582,000 online sign-ups.
It comes despite a strong showing for BSM category and butter brands in particular last year. Data for The Grocer's Top Products Survey [Nielsen 52 w/e 5 September] showed the BSM category enjoyed a 9.9% rise in total volumes, with value sales climbing by 10.4% to just under £1.4bn. The four main block butter brands delivered more than £62m in additional sales, representing half of the BSM category's total growth.
"It's great to see there's been an increase in the amount of people looking to make more conscious decisions around what they buy and what they eat," said Upfield UK & Ireland general manager Damian Guha. "Surely one of the few positives to come from lockdown.
"Whether it's making healthier choices in our purchases or reducing our meat and dairy consumption – such as by changing from dairy butter to margarine, as so many people have – every small change helps in the long run."