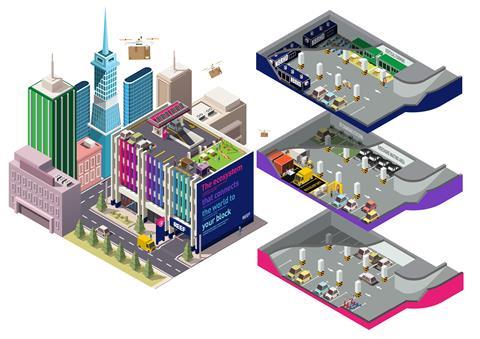 Urban farms, e-bike rental and delivery-only dark kitchens are among the alternative uses of space being explored by a major UK shopping centre owner.
Capital & Regional hopes to turn shopping centres into 'Neighbourhood Hubs', starting with its malls in Luton and London's Wood Green.
The real estate investment trust has partnered with Reef Technology to reinvent 'underutilised' car park and shopping centre space in the hope of boosting the centres' income and value.
Reef works in hundreds of cities across the US, operating dark kitchens and providing mobility and last-mile delivery services in areas of high population density.
New uses under consideration for the Wood Green and Luton malls include delivery-only kitchens serving local and international restaurant menus, last-mile fulfilment centres, e-bike rental for commuters and vertical farms to serve locally grown produce.
Talks are underway over bringing similar new uses to Capital & Regional's Walthamstow and Ilford shopping centres.
Capital & Regional also owns shopping centres in Blackburn, Maidstone, Redditch and Hemel Hempstead. Its new partnership is Reef's first deal with a UK shopping centre owner.
Capital & General CEO Lawrence Hutchings said the partnership would see its underused space transformed "into neighbourhood hubs that make a positive contribution to the local community and economy".
"We believe this innovative new agreement provides a blueprint for how community shopping centres can fully embrace and benefit from the digital economy in the future, while continuing to fulfil their vital role as physical destinations," Hutchings added.
Reef MD for Europe Barak Zimerman said: "We're excited to be partnering with Capital & Regional across its portfolio to help enhance the value of its retail assets.
"The need to adapt and transform retail has never been greater.
"Reef will drive commercial value and better serve the local neighbourhoods and communities with our last-mile logistics and mobility solutions."
Capital & Regional has not put a timescale on the plans.