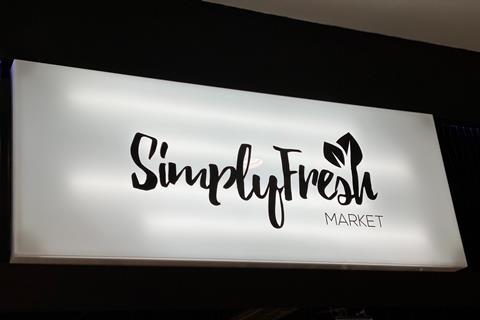 SimplyFresh has launched a new store concept called SimplyFresh Market.
The site opened last Friday, and sits in the Kingfisher Shopping Centre in Redditch, near Birmingham.
Creative director Davinder Jheeta told The Grocer the principle behind the concept was to become a destination food store, that brought together grocery, foodservice and coffee.
"It becomes a market, and that's where the branding came from," he said.
"We're doing really well in the convenience sector, so we wanted to do a little bit more and appeal to a higher demographic, a different mission, and it was about how we couple all of this love of food and bring it into one place."
The store features two sit-down areas. One for coffee, with a full barista set-up supplied by 7 Stories, and one for the foodservice environment.
The foodservice provision sits under the Carnival Kitchens brand. There are eight different cuisines that customers can order. Meals are cooked in a kitchen above the premises.
The grocery area stocks fresh produce from specialist and artisan ranges, as well as Co-op lines through the Costcutter supply chain.
A section for BWS is also available, with spirits found in the aisles rather than behind the counter. "It's about a free shopping experience. It's like a mini supermarket in that sense," added Jheeta.
The store also features a different set of fixtures and fittings compared with a normal convenience store, as well different branding and a black-and-white logo.
"SimplyFresh Market has been in development for a few years now, and I am very privileged to have been given the opportunity to reimagine our brand," said Jheeta.
"The sentiment that I wanted to get across is that A: We really appreciate the people that have been involved in the project with us.
"And B: I'm really proud of SimplyFresh that even during these uncertain times, we're still firmly committed to bringing innovation within the sector, because we're so passionate about independent retailing."