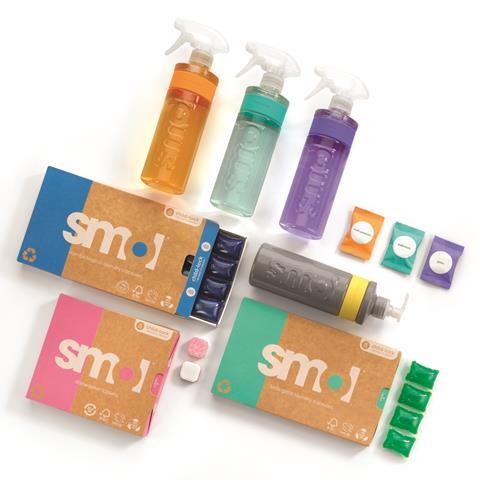 Laundry detergent DTC startup Smol, founded by two former Unilever directors, has raised $34m (£24.1m) in a funding round.
Founded in 2018 by Paula Quazi and Nick Green, the business delivers laundry capsules, dishwasher tablets, fabric conditioner and surface sprays direct to customers' doors via a subscription service.
The $34m fundraising comes after Smol doubled sales in 2021 so far, compared with last year, as consumers turned to eco-friendly household brands in greater numbers.
The round was led by VC firm Eight Roads Ventures, with Google Ventures, Latitude and existing investors Balderton Capital and Jam Jar Investments, the VC fund run by the founders of Innocent Drinks.
Smol plans to use the cash to launch into new product categories and expand into Europe.
It follows an £8m series A funding round in 2019 led by Balderton Capital, with participation from Jam Jar.
Paula Quazi, who spent 20 years at Unilever, said: "With our latest round of funding secured, this $34m investment will allow Smol to expand further into new products and markets, helping consumers make an even bigger impact, by allowing them to make even more environmentally friendly choices with ease."
Smol claims its range of cleaning products uses less chemicals per dose than regular brands, with more eco-friendly, plastic-free packaging.
Smol's latest consumer campaign is focused on encouraging household to wash clothes less and cut down on detergent purchases to help protect the environment.
Smol said customers switching to Smol in the past three years had helped to save more than 1,000 tonnes of chemicals, 10 tonnes of animal fats – found in some fabric conditioners – and more than 350 tonnes of plastic.
"Encouraging people to wash less, and therefore buy less detergent, may seem a counter-intuitive move from a laundry and cleaning brand, but if we can encourage consumers to make that small change it will have a huge impact on reducing carbon emissions and water use," Quazi added.
"We're really proud to launch our 'Washwell' campaign and we have a whole range of tips and ideas to bring to consumers. We welcome other brands to join us and partner up to create an even bigger positive impact for the planet."