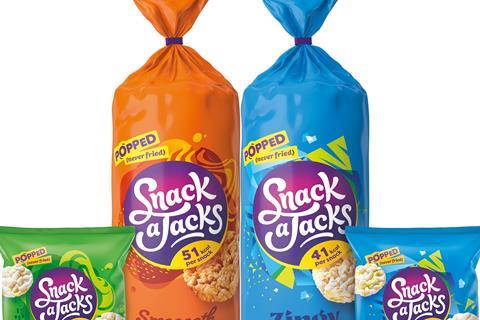 PepsiCo is overhauling Snack a Jacks, giving it a new look and reformulations that will make it non-HFSS.
Kickin' Sweet Chilli Crispies and Smooooth Caramel Jumbo Ricecakes will be the first two SKUs to undergo a recipe change. The duo currently provides as much as 28g of sugar per 100g, as well as 8.2g of fat and 0.93g of salt.
The revamped Crispies will be available from the end of this month, followed in mid-June by the updated rice cakes. They will be joined on shelf by Cheese Jumbo Ricecakes, which are already non-HFSS.
The move demonstrated "the brand's commitment to provide a variety of options to consumers when it comes to their snacking choices" said PepsiCo. It would "also say goodbye to red traffic lights on pack for good, whilst keeping the same great taste and crunch".
It will be followed in 2022 by reformulation for "the majority" of Snack a Jacks' other lines, such as Salt & Vinegar Crispies, which contains 2.7g of salt, meriting a red traffic light on pack.
"Healthier lifestyle choices are becoming increasingly important to consumers, said Lizzie O'Connell, Snack a Jacks brand manager. "Healthy eating saw a resurgence in priority towards the end of 2020 and with this in mind, Snack a Jacks is looking to improve the nutritional profiles of their products."
The reformulation would "ensure that each bag continues to be full of taste and enjoyment as well as meeting snacking needs of consumers" she added.
All variants are to be given a new pack design from the end of May. A prominent 'Popped (never fried)' message will appear on all SKUs, including a new five-bag multipack of Crispies, which will replace the current four-pack at no change to rsp.
"The bold and colourful updated packaging design reaffirms Snack a Jacks' unique place within the rice snack segment and entices more families into the brand," O'Connell said.