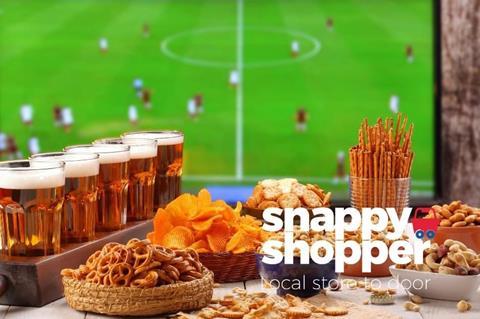 Snappy Shopper has enjoyed a surge in new customers as it targets the Euros with money-off vouchers.
New user numbers were up 46% in the week ending 28 June, compared to the same week in May.
Last week sales had also soared by a fifth compared to the week preceding the tournament, as it recorded its highest level of transactions yet.
The online grocery platform credited the hike in sales to the voucher redemption codes it launched in time for the Euro 2020.
Such incentives include £10 off any purchase of £20 or over for new customers.
The campaigns are currently themed around the tournament but will change beyond 11 July. Other campaigns are set to take place throughout the summer.
"Our money-off voucher campaigns are fully funded and there are many more to come," said Snappy Shopper marketing director Philippe Rondepierre.
"We have been targeting new, existing and lapsed users with different mechanics. We are also investing nationally in paid social media, search channels and email as well as employing push notifications and in-app pop-ups.
"The Euro 2020 football championship has presented Snappy Shopper partners with the perfect opportunity to provide match-time drinks and snacks.
"In addition, building virtual relationships with shoppers is becoming as important as developing the real ones that partners have built over many years with their communities. It is important for us to remain engaging, relevant and front of mind with shoppers, in support of our partners' business."
Snappy Shopper manager for Nisa Local in High Heath, Walsall, Luke Vincent said: "We find the Snappy Shopper voucher redemption codes very useful. We have used the codes quite a bit since the start of the Euros and home delivery sales have grown as a result, especially the codes for new customers. This hasn't been just on England match days but every day during the event.
"We are also seeing these new customers ordering from us a second and third time. It's great Snappy Shopper funds these voucher codes. They are very easy for retailers to use. As soon as the codes become available, we upload them straight away by promoting them to our 9,000 Facebook followers and to our customer base."