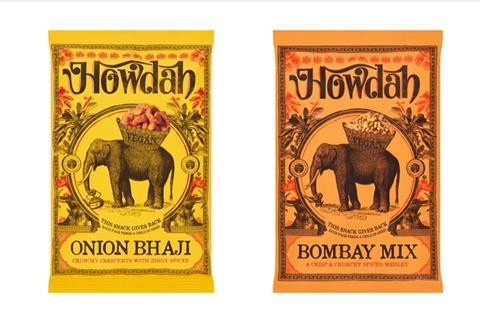 Indian-inspired snack brand Howdah has scored a permanent listing with Sainsbury's after an initial run in its Future Brands programme.
Howdah's Onion Bhaji and Bombay Mix variants (rsp: £2.60/150g) have rolled into 480 of the retailer's stores.
The brand offers a "one-snack-one-meal initiative", meaning every pack sold provides a child in India with a free school meal.
Howdah founder Falu Shah told The Grocer she realised there was a gap in the market after friends and family continually asked her to bring Indian snacks back to the UK.
She added that "there was always demand" from her relatives, who would write shopping lists for her every time she travelled there.
This led her to commission her own market research, which revealed "there was nothing on the market" like Howdah, said Shah.
But Shah also wanted her brand to have a positive social impact, she told The Grocer.
"I always wanted Howdah to be doing something more," added Shah, who said hunger was one of the biggest barriers to education in India.
For this reason, Shah partnered with Indian NGO The Akshaya Patra Foundation to deliver one free meal for every pack of Howdah sold.
To date, the partnership had delivered over 260,000 free school meals, with a target to provide one million by the end of 2021, she said.
"I was raised in India and I've seen that if a girl is educated … it changes life for her immediate family tremendously."
Shah said she hoped to expand the range if it continued to perform well.
"We've got some very important products in the pipeline", she said.