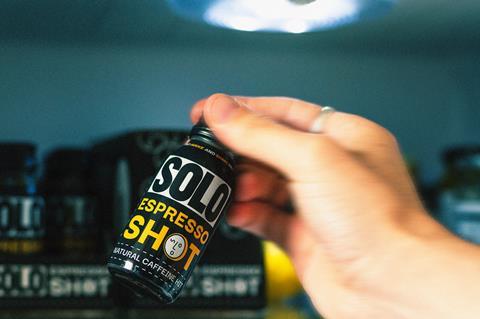 DTC cold brew coffee brand Solo Coffee has launched into retail with a new Coffee Espresso Shot.
Using "specialty grade" espresso, they were developed to taste best when drunk neat and "finely filtered to make a smooth mouthfeel", said Solo.
The drink delivered a "coffee shop-quality pick-me-up in a convenient, bottled format", and contained 127mg of caffeine with no sugar or artificial additives, it added.
They will roll out from 15 September in single shot and multipack formats (rsp: £1.65-£16.50/60ml-10x60ml).
The formerly DTC-only brand said it aimed to have the shot stocked in supermarkets, gyms, petrol stations and convenience stores across the UK.
Solo co-founder and head of marketing Theo Garcia said he wanted to "make great coffee more accessible".
"We have always wanted to make a product for retail and when the idea of the espresso shot presented itself, it felt so obvious to us we just had to do it. For us, coffee is about functionality," Garcia said.