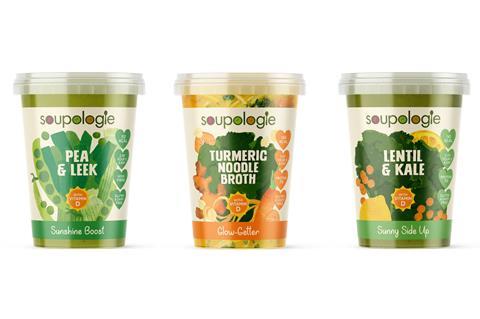 Soupologie is hoping to give Brits a vitamin boost with a new range of vitamin D-enriched soups.
It will launch a three-strong line-up of soups, each offering at least 50% of the recommended daily intake of vitamin D3 per 300g serving.
They are: Lentil & Kale, Turmeric Noodle Broth and Pea & Leek (rsp: £2.65/600g).
Co-founder and head of NPD Amanda Argent said the added 'sunshine vitamin' boost in the soups took the health benefits to "a new level".
"As we've all been stuck indoors for rather a long time now, combined with it having been winter, our exposure to the sun has been more limited than ever," she added.
As well as offering a vitamin boost, the soups are also free from the top 14 allergens and contribute towards shoppers' 5 a day.
They will launch at Ocado, Planet Organic and Whole Foods from 22 March.