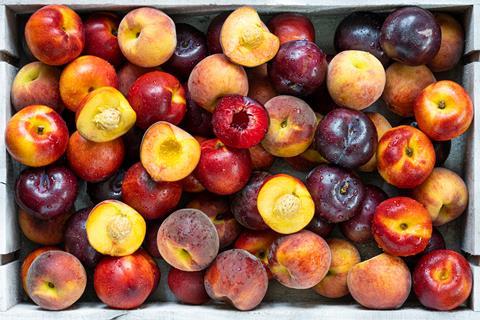 South Africa top fruit trade body Hortgro has lauded what it described as one of its biggest stone fruit seasons to date as export volumes of its plums, nectarines and peaches recorded double-digit growth.
With advantageous weather and the maturation of newly planted orchards creating better availability, global export volumes of the country's plum crop leapt 71% year on year to 79,800 tonnes between November 2020 and this month, with nectarine exports growing 29% to 16,250 tonnes and peach volumes going up 22% to 6,111 tonnes over a similar time period.
UK retailers and wholesalers were responsible for a significant proportion of the peach and nectarine exports, taking up half (8,125 tonnes) of South Africa's nectarine exports and 41% (2,505 tonnes) of its peaches. The figure was just 3% (2,415 tonnes) for plums.
"We had a near-perfect season from a production point of view," explained Hortgro chief Jacques du Preez.
"After the ongoing drought of the previous seasons most factors worked in our favour: we had enough irrigation water in most regions and experienced a good winter, we had a mild spring and summer with no heatwaves that have caused problems in the past."
Supply chains had also become more manageable after Covid-19 impacted 2020 exports, du Preez added, although the fruit had had to be shipped rather than flown to the UK.
While Hortgro did not reveal sales figures for its members' produce, it said it had targeted UK consumers through online activity, such as digital banners on the mults' websites and in-store promotions with the mults including store shroud units, on-pack labels and recipe cards.
This campaign has been followed by a marketing drive for South Africa's apples and pears season, which got underway last week with PR, online and social media activity.
Hortgro has forecast a 5% year-on-year increase in apple exports and 6% rise in pear export volumes as continued good weather conditions have complemented the first commercial production of young orchards.