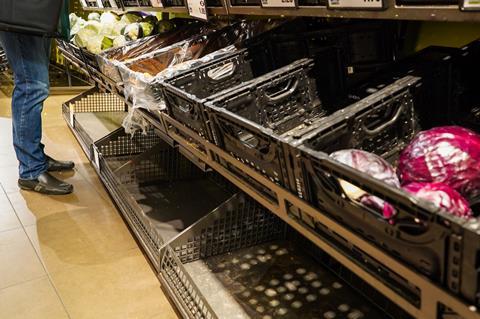 Wholesale prices of salad crops and vegetables grown in Spain have risen in the wake of Storm Filomena, new data has shown.
Prices for courgettes and bell peppers grew significantly during the week in which the storm brought unprecedented snowfall and freezing temperatures to the Iberian Peninsula.
According to Mintec data, courgette prices leapt more than 75% (€1.40) to €3.25/kg in the week to 13 January, while green peppers saw a 30% uplift (€0.34) to €1.46kg.
Lettuces and cabbages also experienced smaller jumps in price, rising 12% (€0.10) to €o.90/kg and 10% (€0.05) to €0.55/kg, respectively.
The prices rises were the result of "supply shortages and logistical bottlenecks" in Spain, said Mintec senior market analyst Ramnikh Kular. The latter had been exacerbated by Covid-19, he added.
UK retailers said they had experienced an impact on supply following the storm, with Tesco admitting it had experienced minor and temporary reductions in lettuce supplies as a consequence of Storm Filomena.
The BRC hinted issues had also been felt by other retailers but played down concerns. "The bad weather in Spain has had an impact on Spanish production," said director of food and sustainability, Andrew Opie. "However, retailers are adept at managing their supply chains and will be doing everything they can to ensure consumers are not affected."
It comes a week after Spanish fresh produce export association Fepex said Storm Filomena had reduced yields of tomatoes, peppers, cucumbers and courgettes in Spanish regions such as Almería and Granada.
The organisation said the cold had also "paralysed" the growth of some fruits in both areas, though soft fruit crops were protected from snowfall due to being housed in polytunnels or under glass.
Fepex added that heavy rains in the immediate aftermath of the storm had also caused concerns of fungal and bacterial diseases in plants.
Its worries were echoed by leading salads supplier Florette, which told The Grocer it was "keeping a close eye" on the rainfall levels in Spain. The brand added that the snowfall had not impacted its key growing areas, such as the south-eastern province of Murcia.