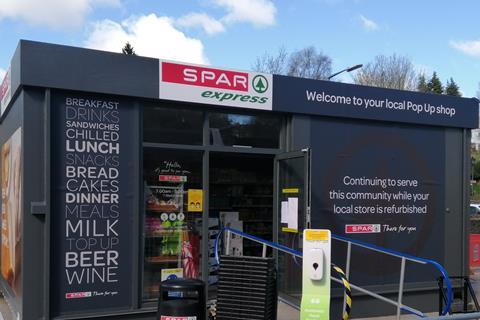 Spar has launched its first-ever pop-up store under an 'Express' fascia.
The temporary store will the serve the local community in Haworth, West Yorkshire, while the James Hall company-owned store undergoes a refurbishment.
A reduced range of every day essentials will be available to shoppers, including fresh meat and dairy, fruit and vegetables, bakery, ambient, pet and household goods.
There will be a one in, one out policy to ensure social distancing guidelines can be met.
It will trade until 19 May when the new, 2,500 sq ft store is ready to reopen the following day.
During this time, the refurbishment will see the addition of a Graham Eyes butchery counter and Clayton Park Deli counter.
"This is a first for Spar and a concept that will help keep essential services going in the village," said Spar UK format proposition manager Ross Stoddart.
"Spar Haworth is the only shop in the village so it is imperative, especially during these times that we continue to serve the rural community while the store is being developed.
"We are always looking for ways to overcome the challenge of store closures with large store development projects, and a pop-up store option allows the store to trade."
The symbol group said it is now considering pop-up stores for future developments in similar situations, both for independent retailers and company-owned store developments.
The pop-up was provided by Rapid Retail.