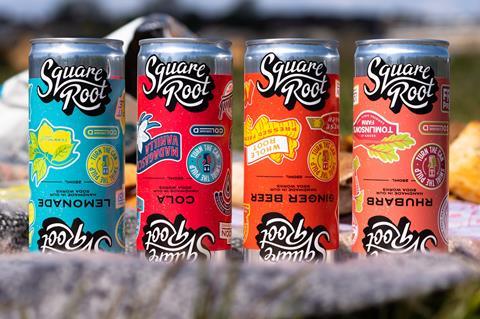 Upmarket London soda brand Square Root is moving into 'upside down' cans.
The brand has poured its Lemonade, Cola, Ginger Beer and Rhubarb Soda into a new 250ml format, with its logo and product stickers appearing both ways up on the cans. This means the cans (rsp: £1.60) must be stored upside down on shop shelves and in fridges for the flavours to be read.
The labels were initially printed upside down as an accident, said the brand. "When we first saw the designs for our new cans, we were horrified," said Square Root co-founder Robyn Simms.
However, "we came to realise this terrible design faux pas presented an inadvertent solution to the problem of the natural sediment in our drinks".
Indeed, stocking the cans upside down meant the pulp from whole fruit used in the drinks' production – which usually settles at the bottom of the can – would be actively shaken up when a shopper turns a can the right way up, said Square Root.
It comes as the brand recently smashed a £250k crowdfunding drive, overfunding by 230% to hit £577,444 from 570 investors.
Square Root made its retail debut in February, launching into Sainsbury's through the retailer's Future Brands initiative.