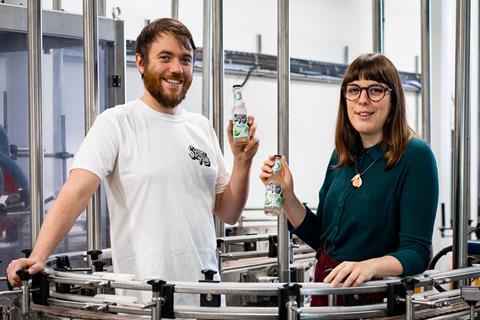 Upmarket soft drinks brand Square Root is mounting a £350k crowdfunding drive.
The London-based brand will launch a Seedrs campaign next month with an eye to hiring a full-time head of sales and moving its drinks into cans.
It will offer up 7.2% of its equity, giving the business a pre-money valuation of £4.5m.
The raise comes ahead of the brand's launch into an as-yet-unnamed major retailer next month.
"We've been very heavily on-trade focused until now, although we've worked with smaller online retailers for a long time and are heavily invested in DTC" said co-founder Robyn Simms.
The move into cans, meanwhile, would be aimed primarily at "places where you can't have glass" she added. "They are perfect for grab and go.
"We're looking at outsourcing the canning for the first couple of production runs, then we hope to install our own canning line."
Despite the loss of the on-trade due to the pandemic, online sales had surged over past months, she said – largely thanks to the brand appealing to the growing number of shoppers seeking low & no options.
"We've been growing DTC every month and January is set to be our best month ever – we're up about 670% year on year. DTC is probably doing more than a 50-site café chain would in a previous year.
"We have a limited edition 'Make Dry January Awesome' pack, which has been our top seller to the point that the team are stuggling to pack them. We also in October did an alcohol-free mojito… it's been our most successful launch ever."
This week also saw the launch of a collaborative grapefruit soda, made in partnership with Manchester-based craft brewery Cloudwater.