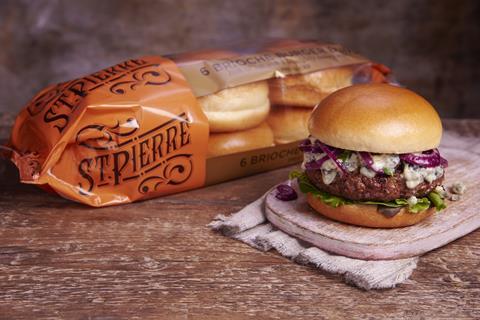 UK growth at St Pierre Groupe continues to accelerate, outpacing its success in the US, as a raft of new listings continue to bear fruit.
New listings across the mults had pushed growth levels to more than 80% in the domestic market this month, said newly installed CEO David Milner.
The surge comes after newly filed accounts at Companies House showed total revenues jumped 16% in 2020 to break past the £100m mark for the first time in the group's history.
Shoppers seeking comfort foods that could stretch across mealtimes, as well as products with extended shelf lives to allow them to shop less frequently, helped the St Pierre, Baker Street and Paul Hollywood brands to "flourish", co-founder and international director Paul Baker said.
Widening distribution with the likes of Tesco, Sainsbury's, Morrisons and Waitrose helped St Pierre achieve growth of 130% in the UK last year, while Baker Street, which is mainly focused on wholesale, also gained its first supermarket listing.
The Paul Hollywood ready-to-bake range remained the biggest brand in the UK part-baked bread category, with 70% sales value growth year on year.
Global growth also continued apace in 2020, with the St Pierre brand registering a 52% rise in international markets, mainly driven by increased distribution with US retailers.
Revenues in the US – where St Pierre is the number-one brioche brand, outselling even private label – generated £55.6m of the group total.
European sales were up by £900k to £2.9m, while UK turnover rose 15% to £43.5m in 2020.
Milner, who is known for his expertise in international markets after taking Tyrrells and Lily's Kitchen global, said he was focused on accelerating growth even further after taking the reins last month. "Great brands start with quality products, and we have those in abundance," he added.
"We spent 2020 establishing the infrastructure to safeguard the supply chain and preparing the business for growth. Now our focus is on making sure we can consistently get the right products, in the right place at the right time.
"Any growth is being driven by our core ranges and we'll be working to expand the geographical reach of our brands – particularly in America.
"As we start to move away from the many challenges brought about by the pandemic and into a key sales season for all three brands, we're confident that we'll end this year ready to hit the ground running in 2022."
Turnover at the group – which scored a top-ten spot in the 2021 Grocer Fast 50 list – is forecast to reach £150m by the end of the year. The top line stood at just £16m in 2010.
St Pierre founders Paul Baker and Jeremy Gilboy led an MBO to take the business – then known as Carrs Foods – into private ownership back in 2004.
The Manchester-based company rebranded in 2019 after securing £7m backing from private equity firm BGF and bringing Milner on board as chairman.