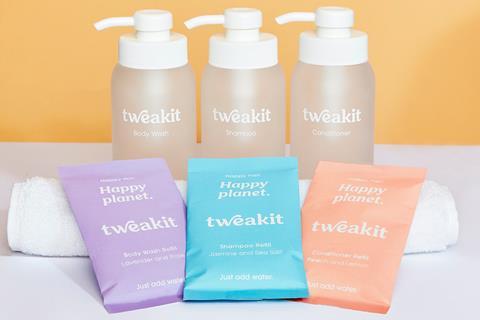 Personal care startup Tweakit has unveiled a sustainable, nine-strong hair and body range designed to "combat the plastic and water waste crisis".
Shampoo, conditioner and body wash come in powder form – which meant "only the essential ingredients are delivered" to shoppers, the brand said. Before use, they must be mixed with water in Tweakit's reusable pump dispenser bottle, shaken and chilled.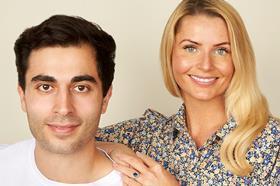 Each comes in three fragrances: Jasmine & Sea Salt, Peach & Lemon and Lavender & Rose. All are made with 99% natural ingredients, with active plant extracts including willow bark, aloe vera and green tea. They are also vegan, cruelty-free and free from parabens. The shampoo and conditioner promise to be suitable for all hair and scalp types.
Tweakit products are packed in a recyclable, pocket-sized paper sachet, making them "ideal for travel and for those limited by space, weight or liquid restrictions at the airport".
They are the invention of Ben Anderson and Anna Nash, with the aim of reducing plastic waste and water usage.
"The UK throws away over 520 million shampoo bottles every single year," they said, adding that an average bottle of shampoo or shower gel contains 95% water.
Anderson and Nash have initially made their new brand available via Kickstarter, with the claim that "buying one Tweakit refill will stop up to 12 plastic bottles going into our oceans and landfills" and "one year of Tweakit's sachets equals the same weight as a 250ml bottle of shampoo".
Prices begin at £22 for a six-month bodycare set.