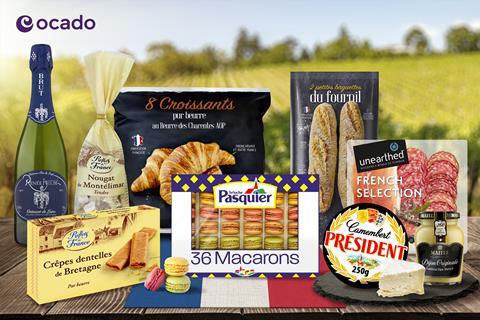 Sales of French products on Ocado.com have risen by a third this year, according to sales data shared by the online grocer.
British consumers purchased 34% more French produce on the Ocado site from January to May this year compared with the same period last year.
The data indicated Brits' "increasing appetite for French cuisine, as hopes of a getaway across the Channel dwindle" Ocado said.
Sales of alternative French sparkling wines rose 104%, while champagne sales increased 35%. Searches for crémant, a sparkling wine made outside the Champagne region, rose 139% year on year.
French cooked meat products more than doubled in sales, increasing by 134% between the two periods, while demand for French cheeses went up 46%. Searches for charcuterie and cooked meats also increased, by 60% and 109% respectively.
"With travel off the agenda for the best part of the last 18 months, we've seen a shift in appetite towards different cuisines, with French being a firm favourite," said Laura Harricks, Ocado Retail chief customer officer.
According to the 2019 ONS International Passenger Survey, France is the second most popular country for Brits to visit after Spain. Some 10.3 million Brits visited the country that year.
The UK is currently on France's amber list, meaning those who are not fully vaccinated will only be permitted to travel for essential reasons. Those who are fully vaccinated still require a recent negative PCR test and a sworn statement they are without symptoms. On their return to the UK, visitors to France must quarantine for 10 days.
Meanwhile, A YouGov survey this month found 55% of French people want British holidaymakers to stay away this summer.
Ocado said its sales data showed "changing shopping habits as the hope of a French getaway hangs in the balance".