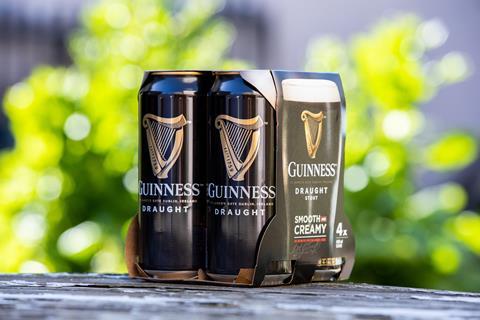 Stout outpaced champagne in the locked-down Christmas period as celebrations took a more muted turn.
Guinness owner Diageo said the 12 weeks to Christmas had seen stout outpace posh fizz, following a bumper year of sales.
The take-home stout market rocketed 52% to £122.9m in the year ending 21 March [Kantar], as 31% more shoppers entered the category.
That was well ahead of the 12% growth in champagne to £138.2m in the same period. It's also ahead of the wider beer market, which grew 39%.
The rapid growth in stout was driven by Guinness, which accounts for 92% of sales.
Diageo put its rise in retail sales down to "an upward curve in distribution and sales of bigger pack formats" in addition to hospitality restrictions.
"With the on-trade having faced the challenges of lockdowns over the past year, Guinness has acquired new drinkers in the off-trade as people gravitate towards trusted and well-known brands," said Kate Blake, category strategy lead beer & RTD at Diageo.
Other breweries that have enjoyed an uplift in stout sales include Adnams, whose head brewer Fergus Fitzgerald told The Grocer there had been "a sharp rise" in sales of its bottled Blackshore stout in the past year.
Tom Clermont of Bristol Beer Factory, whose 4.6% abv Milk Stout represents up to 10% of the brewery's total output, said the spike in stout sales was down to shopper routines being "forcibly disrupted" during the pandemic, as out-of-home consumption shifted into retail.
"Guinness has proven that stout has the capacity to be a high-volume, widely-liked style, and it seems a lot of people – whether for a treat or stumbling on it by chance – have fallen for stouts," he said.
Yet he believed there would be "little reason" for stout to experience sustained growth in retail now that pubs have reopened. "Stouts are spectacular and we're glad more have been consumed this year," Clermont added. "It's a nice moment rather than a sea change."