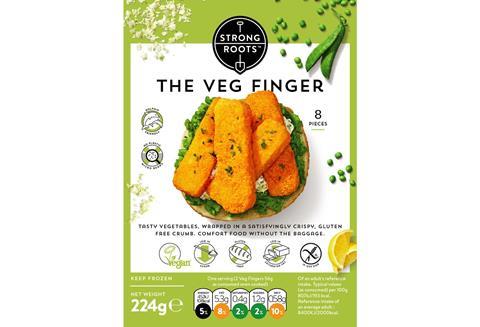 Strong Roots is hoping to steal share from fish fingers with a new range of frozen Veg Fingers.
The brand's new fingers are made from root vegetables such as cauliflower, parsnips and onions, wrapped in gluten-free crumbs.
The brand said it wanted to lure a growing number of shoppers who were dissilusioned with the fishing industry and looking to cut down on fish in their diets – particularly in the wake of Netflix documentary Seaspiracy, which has been the subject of controversy for suggesting there is no such thing as sustainable fishing.
The brand said it was "prepared for consumers across the UK and Ireland to ditch the fish in favour of the freezer aisle", pointing to the massive growth experienced by the plant-based sector over recent years.
Strong Roots certainly isn't the only brand betting on Brits abandoning fish fingers: Moving Mountains, for instance, debuted in fish alternatives with a range of plant-based fingers made from a first-to-market white soy in December 2020.
Quorn made its first foray into fish alternatives in 2019 with a range it claimed to have spent five years developing.
The brand recently joined the likes of BrewDog and Bol to become a B Corp.