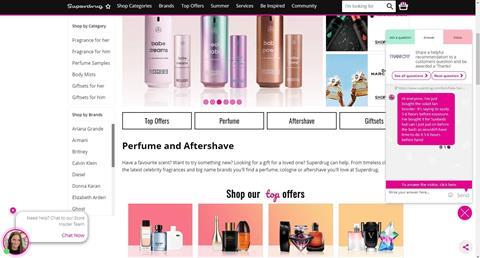 Superdrug has launched new technology enabling online shoppers connect with store staff for recommendations and support when buying fragrances and make-up.
The 'Superdrug Store Insider' service aims to provide online shoppers with the same level of customer service and advice they could expect when visiting a shop.
It's available now at Superdrug.com and connects customers to staff in one of four trial stores: Westwood Cross, Leicester Fosse Park, Basildon Mayflower and Oxford Westgate.
Online shoppers browsing the makeup or fragrance categories are presented with a pop-up at the side of the screen saying "Need help? Chat to our Store Insider Team now." By clicking "chat now", they can begin an online meeting, in which they can both hear and see the store assistant. Meanwhile the assistant can hear but not see the customer.
Superdrug aims to roll it out across the store estate if successful. Fragrances and make-up have been chosen because they are "two categories where browsing and recommendation are key to customer experience", according to the high street pharmacy.
"The Covid-19 pandemic has significantly accelerated the growth of our Superdrug.com business and we are passionate to provide a market leading online experience for all our customers," said Superdrug e-commerce director Matt Walburn.
"Traditionally a bricks and mortar business, Superdrug has long had a reputation for expert health and beauty advice in store. So now, in a time when customers are shopping online for safety and convenience, we want to ensure we can offer that same personal shopping approach, just from the comfort of a customer's own living room.
"A big part of our e-commerce strategy is about humanising the online shopping experience," Walburn added.