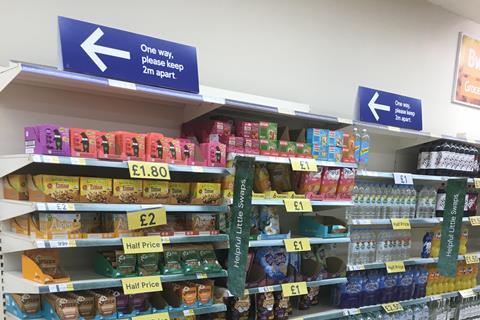 Supermarket bosses have urged the government to step in after stores this week began to face "draconian" Covid clampdowns by "overzealous" council inspectors.
Councils have been sending in inspectors across the UK after being urged by ministers to enforce safety measures, including staff wearing masks and social distancing in stores.
Inspections across thousands of supermarkets are being carried out, with some councils appealing on social media for customers to come forward with information about stores where safety rules are being breached.
Retail bosses have urged the government to introduce a "primary authority" approach to the inspections to ensure consistency in their approach, with some councils being accused of "going over the top".
"The government has decided on a local authority model of enforcement and the problem is that local authorities are notoriously inconsistent," said a senior supermarket source.
"We are already seeing this in the early days, and we have asked the government to step in to ensure a more even-handed approach."
Another source told The Grocer the decision to task local authorities with enforcing Covid safety had created a "postcode lottery" system of enforcement.
Read more:
"The government has unleashed local authorities, and some are going over the top. There have been examples of inspectors attempting to insist stores have one-way systems in place, whereas there is no such requirement under the law.
"Local authorities are interpreting guidance in their own ways, with all good intentions. Having a primary authority would be a way to provide a degree of certainty."
The wave of inspections come despite supermarkets introducing sweeping new measures to make stores safer, after being called on by ministers to help stop the spread of Covid. Most of the major supermarkets have pledged to ban customers not wearing masks.
"The government needs to be very clear with local authorities to ensure consistency and a partnership approach to meeting the challenge of keeping stores Covid- secure," said Andrew Opie, director of food policy at the BRC.
"Sage data has always highlighted that the Covid transmission risk in stores is low, and firms have spent hundreds of millions on safety measures including Perspex screens, additional cleaning, and social distancing. Supermarkets continue to follow all safety guidance and are stepping up various measures to ensure stores are as safe as possible."
North Somerset Council was one council announcing a wave of checks, with local authority inspectors being accompanied by the police.
Wealden District Council in Kent, which has seen some of the highest Covid figures in England, urged shoppers to come forward if they had concerns about "face masks, handwashing or overcrowding in stores they visited".
Dorset Police and council workers are carrying out visits to local supermarkets amid concerns about retailers failing to comply with Covid-19 regulations.
They said large stores and other retail businesses accounted for most of the 69 complaints made to the council's Environmental Health and Trading Standards teams.
Meanwhile, three Tesco branches in Swansea have been issued with partial closure notices, after being found to have breached Covid lockdown regulations in Wales, which outlaw supermarkets selling non-essential items.
Swansea Council issued the notices to Tesco stores in Fforestfach, Pontarddulais and in Swansea city centre, after officers visited and found them to be in breach by selling products that fell foul of the ban.
A spokesman for the Local Govermment Association said: "Supermarkets have been highlighted as areas of concern as one of the few types of business still able to be open. Some supermarkets have started to enforce their rules more effectively through the use of security guidance, and hopefully more will follow suit to help reduce transmission risk in these high-footfall areas."