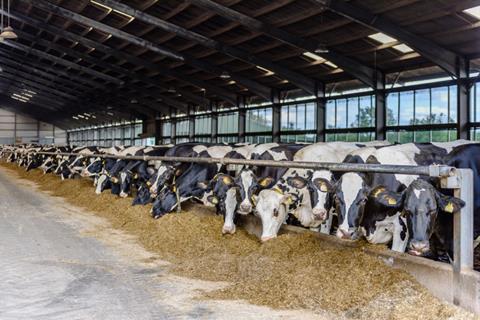 Supermarkets and processors are paying lip service to reducing the climate impact of dairy, and overlooking low-carbon producers "on the grounds of simple logistics", a Welsh dairy farmer has claimed.
Sion Davies produces 10 million litres of milk a year from a herd of indoor-reared cows at his Carmarthenshire-based Coomb Farm.
Despite investing significant sums of money to create a "highly efficient" dairy farm with a carbon footprint "significantly below" the industry average, Davies said he had been ignored by supermarkets due to his farm's relative distance from major processing plants near the M25 and M6 corridor.
The farm boasted "excellent feed conversion efficiency and an on-site 500kw anaerobic digestion plant", which runs off the farm's manure, waste silage and old bedding, said Davies, who currently supplies milk to mozzarella producer Dairy Partners.
Despite these attributes, he was told by milk buyers "it wasn't worth their while" to source from him.
Consumers were being "misled" over supermarket carbon reduction commitments, while "genuine low carbon producers" were being overlooked, said Davies.
As a result, the Welsh dairy farmer is now planning to launch a campaign in September to lobby for the need for a premium to be paid on low-carbon milk and for low-carbon labelling to be introduced. The campaign is supported by marketing experts at Lincoln University and backed by other farmers in the industry.