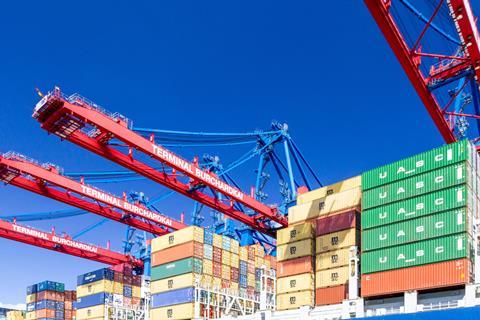 Supermarkets and food manufacturers have called on MPs to launch an urgent inquiry into the disruption at British ports.
Delays at container ports such as Felixstowe have driven up shipping costs and inhibited businesses from stockpiling goods ahead of the expected Brexit disruption next month.
The British Retail Consortium and the Food & Drink Federation have warned they face "major challenges" in building up stock for the Christmas period and for the end of the transition period at the end of December.
In a letter to the chairs of Parliament's transport and international trade committees, the trade bodies asked for an inquiry into the chaos at ports and the functioning of the shipping market.
The letter explained the impact on food manufacturers who are now facing "additional cost to source key inputs elsewhere, whilst also losing sales due to missed retail promotions in the run up to a key seasonal period". It highlighted one company, which has lost over £1m in sales due to the delays.
"Our members are incurring costs totalling tens of thousands of pounds, and in some cases hundreds of thousands," said FDF COO Tim Rycroft.
Supermarkets have experienced rising shipping costs of up to 25% week on week due to the logjam, according to the letter. BRC CEO Helen Dickinson said: "The lead-up to Christmas is the most important time of year for retailers, ordinarily accounting for up to a fifth of the entire year's sales and generating a large part of annual revenues."
As a result of the disruption, she added: "Christmas orders could be delayed, and retailers might be left with no option but to increase product prices. These issues must be addressed urgently; an inquiry would provide the scrutiny needed to help get our ports flowing freely again."
The British Ports Association responded to the letter on Friday morning, stating that while it "appreciates difficulties that some importers have experienced in recent weeks, this is certainly not a systemic issue nor is it unique to the UK. The underlying issues are well understood and there is no case for significant intervention or change to government policy".