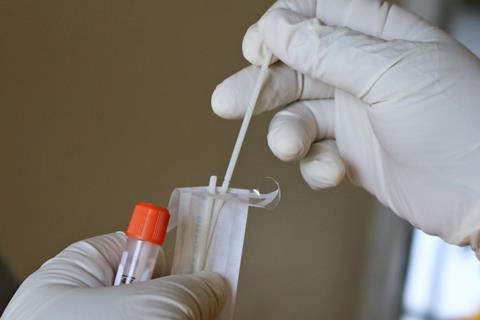 Mass testing for Covid-19 is to be expanded across supermarkets and smaller food retailers in plans to protect workers and slow the spread of the virus, The Grocer can reveal.
It comes with more than 100 food companies having signed up for the supply of lateral flow tests, with the vast majority food factories.
However, The Grocer understands the next phase of the rollout will see it expanded across many grocery retail workforces.
Waitrose told The Grocer it had scaled up the availability of testing having been the first food retailer, under the John Lewis Partnership, to pilot the scheme. It said it now had test sites in 57 locations, an increase from 42, which gave access to testing within 30 miles for 305 Waitrose stores.
Lidl has registered its Avonmouth regional distribution centre as a lateral flow testing site. It said it hoped it would be up and running in the coming days.
Tests would be available to all colleagues at the DC for the next month, it said.
This week Defra called on companies to come forward to receive hundreds of thousands of free testing kits for staff, with major food companies including Tate & Lyle, Moy Park and Primula having trialled the scheme.
Read more:
Gressingham Foods, in Suffolk, is another company involved in the pilot.
Wholesale giant Bidfood revealed it was rolling out testing across its operations.
"So far, testing has been greatly received by our teams at each of the three pilot sites," said MD Steve Clarke.
"As this programme has worked successfully across our three pilot sites, we are now rolling it out to all of our wholesale depots, where we will be asking our teams if they'd like to volunteer to be tested."
However, as the testing rollout continues to gather pace, The Grocer has learnt four out of five food companies will not qualify for the scheme. Figures from BEIS show almost 5,000 out of 6,000 food companies in England don't meet the minimum 50-staff criteria or don't have facilities to carry out tests and collect the data for NHS Test and Trace.
"We are aware that smaller businesses cannot currently apply for the scheme," said Caroline Keohane, FDF head of industrial strategy, skills and employment.
"As smaller businesses are being hit hard by the pandemic, it's a priority and we are working closely with the government to ensure there is a solution."
The Federation of Small Businesses said it too was urging the government to help small firms access the tests, saying to do so was "very important".
However, the GMB union told The Grocer it had major questions over the effectiveness of lateral flow tests, which were at the centre of controversy over the collapse of plans for schools to return under a mass testing regime.
"The government has been forced to abandon mass testing of schools because of the unreliability of these tests, yet they are being used as the basis for a rollout across the food industry based on what seems like very sparse data from limited trials," said GMB national officer Eamon O'Hearn.
"We are worried that this could undermine the relatively good job food companies have done to introduce safety measures and would like to see a much more rigorous examination of the evidence."