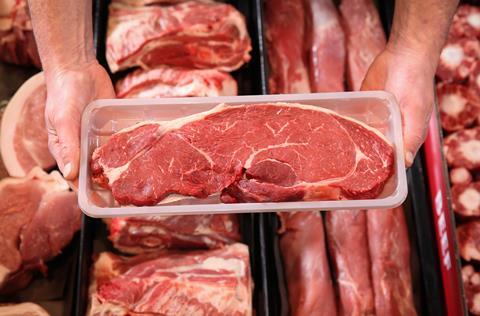 Supermarkets are failing to translate recent improvements in environmental policies into action, new research has claimed, and are instead fuelling demand for meat and dairy at the expense of the climate.
Environmental charity Feedback's Meat and Climate Scorecard for 2021 this week ranked the UK's top 10 supermarkets on their efforts to reduce the environmental cost of the meat and dairy products they sold.
The Co-op, Tesco and Waitrose topped the rankings, based on 38 indicators, but even the Co-op, as the best performing retailer, scored just 45%. Asda, Iceland and Lidl ranked bottom with the worst performer, Lidl, scoring just 17%.
Feedback cited the failure of retailers to promote "less and better" consumption of meat and dairy as a key driver in the low scores, with all 10 retailers "actively encouraging meat consumption through promotions, and not just to avoid waste when products near their expiry dates".
Only the Co-op was accurately measuring and publicly reporting on the climate impact of the goods it sold – but only for its own label products, Feedback added.
Meanwhile, half the supermarkets, including Tesco, M&S and Aldi continued to use misleading or 'fake farm' labels and names such as 'Trusted Farms' "which give the impression that their meat is produced to higher standards than is the reality", it said.
Options such as organic or free range also made up less than 20% of the products offered by all the supermarkets, Feedback pointed out, while Iceland offered no free range or organic options. Only three retailers – Asda, Morrisons and Tesco – ensured that more than a quarter of the ready to cook meals they offered were vegetarian or vegan.
More promising signs included steps taken by all retailers to promote healthy fruit and vegetable consumption, in addition to pressure on Brazilian suppliers to prevent products linked to deforestation from entering their supply chains.
All the retailers, with the exception of Iceland and ASDA, had made a public commitment to drop meat linked to deforestation; however they have yet to remove these products, including chicken and pork fed on soya grown in deforested areas, from their shelves. The charity said.
And none of the supermarkets revealed how much meat and dairy they sell as a proportion of their protein sales, making it difficult to track their progress.
"UK supermarkets are continuing to drive demand for meat and dairy products that are already responsible for 15% of greenhouse gas emissions – and fuelling deforestation in the Amazon and elsewhere," said Feedback executive director Carina Millstone.
"It's time for supermarkets to step up to the plate, slash their meat and dairy products and offer customers more sustainable and healthier options."
The Scorecard showed retailers "are still focused on boosting meat sales, despite setting net zero targets and pledging to help us eat healthier and more sustainably", added Simon Billing, executive director of the Eating Better coalition.
"Making it easier for shoppers to buy more meat and dairy than they need, or probably want is not the way forward for our health, or that of the planet."
But in response, BRC director of food & sustainability Andrew Opie insisted retailers took their commitment to carbon reduction seriously, "with most supermarkets signed up to the BRC's Climate Action Roadmap which pledges to make retail and its supply chains Net Zero by 2040".
Part of this commitment included "helping consumers to make decisions that reduce their own personal carbon emissions, as well as supporting farmers in cutting their own emissions", he said.
"At the same time, supermarkets aim to provide their customers with the best possible value across all their products, this includes not only meat and dairy, but also non-meat and vegan alternatives."