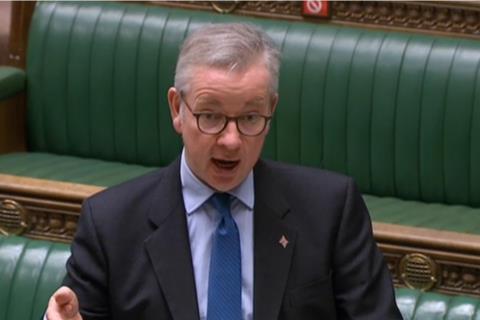 Supermarkets are to recieve a "grace period" when moving goods from Great Britain to Northern Ireland from 1 January.
Speaking in the House of Commons on Wednesday, Michael Gove confirmed supermarkets will be given three months to prepare for the export health certificates that will be required on any products containing animal products, while a six-month grace period will be in place specifically for chilled meats.
"We know some supermarkets are already ready, [but] one or two others need time in order to get ready," said Gove, pledging the agreement will prevent disruption on the movements of chilled meats. "British sausages will continue to make their way to Belfast and Ballymena in the new year."
Gove also told the Commons a trusted trader scheme will be in place for supermarkets to avoid any potential tariffs if a trade deal is not in place. He did not specify however whether the same will also be available to suppliers, wholesalers and other retailers, who have previously warned such a scheme for the supermarkets alone would threaten competition in the region.
Although the exact details of the agreement are yet to be published, RTE reported this morning the tariff exemption will extend to 98% of supermarket goods, while the other 2% would require rebates. Gove confirmed the trusted trader scheme will be subject to a review after three years, after which the EU will be able to terminate the scheme if it is not satisfied it is being used properly.
Aodhán Connolly, director of the Northern Ireland Retail Consortium, said the agreement to remove tariffs addressed one source of friction, but "retailers are still unsure about the exact processes needed to move food to Northern Ireland".
"The details of this agreement need to be the baseline for further deliberations and not the end result."