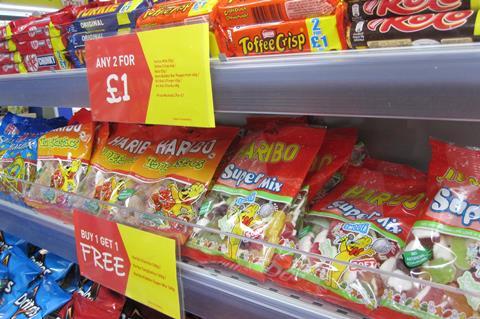 Convenience store bosses have warned government's crackdown on products high in fat, salt and sugar could deter retailers from joining a symbol group.
The government is currently consulting on plans to curb the sale of unhealthy food and drink in the UK.
Under the proposals, a multiple, symbol or franchise store that is larger than 2,000 sq ft will be banned from running multibuy promotions on HFSS products or placing such lines at store entrances, aisle ends or within two metres of a till from April 2022.
However, unaffiliated independent retailers will be exempt regardless of whether their store is above or below 2,000 sq ft.
"This proposal looks likely to cause huge business disruption and complexity and looks likely to fail in its core objective," said Unitas Wholesale CEO Darren Goldney.
"There is a risk that if symbol becomes a defining difference on who is exempt and who is not, there is actually a deterrent to retailers to drive the consistency of offer and standards that symbol groups help support."
Goldney also warned the rules on where items can be sold in many stores would be unworkable. "In most cases this will have massive merchandising implications, ultimately undermining the convenience aspect of grabbing what you want easily," he added.
ACS CEO James Lowman said: "If retailers are discouraged from joining a symbol group, the government's plans could end up having a perverse outcome. Symbol groups have an improved food offer, a diminished uptake could weaken the fresh offer seen in convenience."
The ACS is calling for stores under 3,000 sq ft to be exempt from the restrictions.
According to the ACS Local Shop Report 2020, around 10,000 convenience stores currently operate under a symbol group or franchise, accounting for 23% of the market.
The consultation is set to run until 23 February.