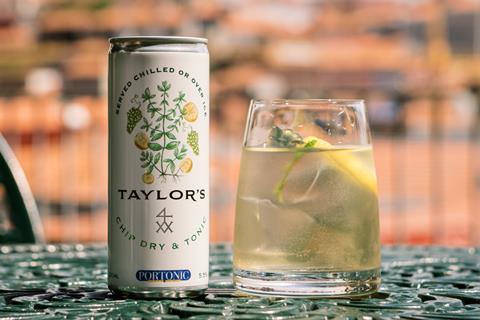 Taylor's Port is making a major move into the RTD sector with a new port & tonic in a can.
The drink (5.5% abv) is claimed to be the first of its kind on the market, and has rolled out in 250ml cans. It combines the brand's Chip Dry White Port with tonic water.
Taylor's winemaker David Guimaraens said it was a "delicious product, bursting with character that will surprise and delight even people who are not familiar with this outstanding port".
The launch marked "the culmination of two years of work" and would "help to bring more consumers" to the category, added Taylor's MD Adrian Bridge.
The brand had made its own dry tonic water especially for the launch, he said, with "a touch of secret ingredients". The drinks are canned on site at Taylor's facility rather than outsourced to a third party.
It comes after a surge in port sales during the pandemic: February data from the Port and Douro Wines Institute shows port sales to the UK were up 11.4% in volume and 2.8% in value last year.
It's the latest in a flurry of launches in the RTD category to hit shelves over recent weeks.
High-strength US RTD brand Four Loko, for instance, debuted in UK retail in April, while Bud Light entered the hard seltzer category with a five-strong range.