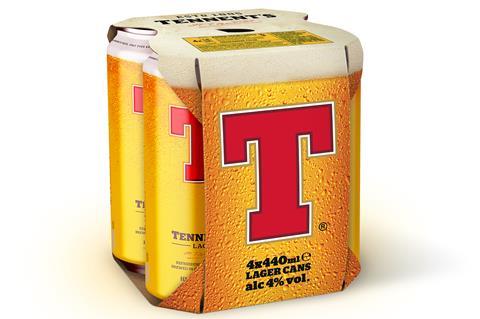 Tennent's Lager has invested £7m in new packaging equipment that will enable it to remove more than 100 million plastic rings from its lager packs by 2022.
The new machinery, which is being installed at its Wellpark Brewery in Glasgow, would enable the brewer to produce up to 120,000 cans per hour in recyclable cardboard packaging, it said.
It will be the first time Tennent's Lager cans have been without any plastic packaging for more than 40 years.
The move forms part of the brewer's 'Because Life is Bigger than Beer' initiative, which launched in 2019 and pledged to remove 150 tonnes of plastic from Tennent's Lager can packs by 2022, including more than 100 million plastic rings.
It follows the introduction of a £2.6m carbon recapture facility at Wellpark last year, which the brewer said would capture and store more than 4,200 tonnes of CO2 each year, while removing the need to continue trucking in CO2 from England and allowing the brewer to become "as close to self-sufficient as currently possible".
Alongside its plastic pledge, Tennent's has committed to being net carbon zero by 2025.