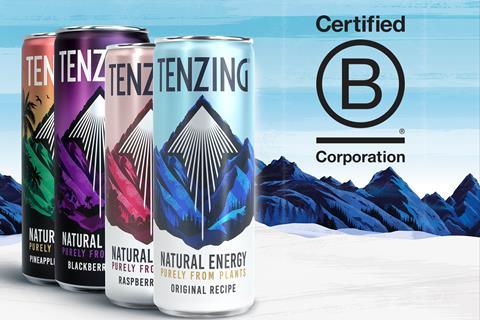 Tenzing has been certified as a B Corp.
The plant-based energy drinks brand scored 85.3 in the B Corp Assessment, scoring highly in the air and climate category.
This was thanks to its dedication to funding air pollution research with Imperial College London, it said.
Tenzing works with the university to source data for its Clean Air Tracker, a mobile app which uses real-time data to help Londoners plot the cleanest walking, cycling and running routes across the capital.
In time, Tenzing said it hoped to to expand the Clean Air Tracker further across the UK.
The B Corp certification would reaffirm "its commitment to taking action against the climate crisis and using its platform to create positive change", it said.
"Tenzing has always strived to create something bigger than ourselves and inspire others to do the same", said founder Huib van Bockel.
"We have gone through a rigorous assessment to achieve our B Corp certification and to be officially recognised as a business that balances purpose and profit is a dream come true."
Earlier this year, Tenzing became the first soft drink to introduce carbon labelling to its products.
The brand worked with CarbonCloud to analyse its carbon impact and greenhouse gas emissions emitted from every stage of production, it said.
In January, it kicked off a new sustainability campaign at Co-op stores, which saw the brand offset 1kg of CO2 for every can sold.
It also moved its manufacturing from the Netherlands to the UK this year, after first unveiling plans to do so in 2019.