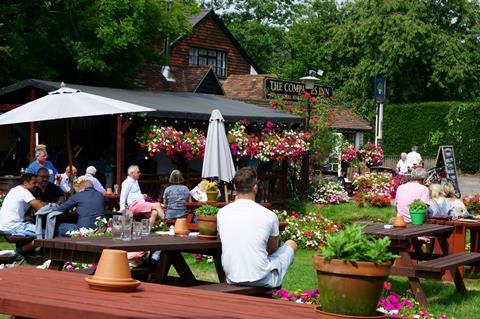 Tesco has urged customers to support their local pubs as beer gardens in England opened for the first time since the winter lockdown.
The supermarket is running a heavweight national newspaper, social media and digital billboard advertising campaign, acknowledging the "tough" time the hospitality sector has had during the pandemic.
"Pubs have had it tough this year," it reads. "That's why for once instead of telling you about our fantastic deals, were using this space to ask you to support them instead (as long as you feel safe to do so)."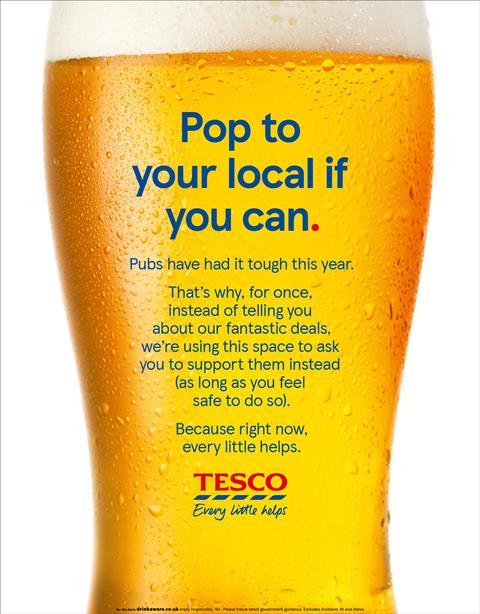 Supermarkets have faced accusation from some quarters of cashing in on the closure of the out-of-home sector, despite most, including Tesco, refunding the business rates relief offered by the chancellor.
The ad comes ahead of a big week for Tesco, with CEO Ken Murphy due to unveil its full-year results on Wednesday .
The supermarket's move echoes a Burger King campaign in November which urged customers to order from rivals McDonald's, Taco Bell and KFC to support all employees and restaurants hit by the crisis, saying they were "employing thousands of staff that really need your support".
"Today is a huge day as many pubs reopen after an incredibly difficult year," said a Tesco spokeswoman. "To support them, we're using our ad spend to encourage the nation to give Tesco a miss in favour of a visit to the pub. We urge our customers to head to their local for a drink or a bite to eat with friends and family if they can."