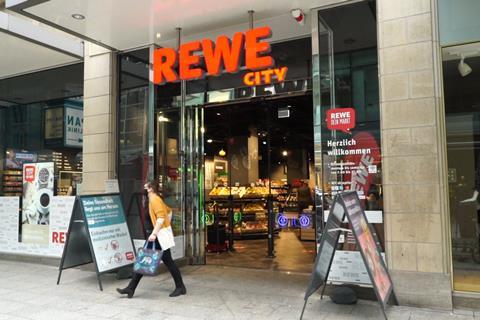 An Amazon Go-style store has been opened by German supermarket giant Rewe, powered by technology from Tesco-backed Trigo.
Germany's second-largest food retail chain has launched the checkout-free option at a store in Cologne initially to employees and select customers, ahead of broader availability this summer.
Shoppers walk into the 2,050 sq ft shop, select their items, and simply walk out without having to queue or scan any items. Trigo's system – a combination of computer vision tech, off-the-shelf sensors and cameras, a 3D digital model of the retail space and proprietary algorithms – compiles the items into a virtual shopping list and settles payments and receipts digitally on a mobile app.
It is Trigo's first live store in Germany, coming after trial stores in Israel and at Tesco's headquarters in Welwyn Garden City. Tesco announced an equity investment in the Amazon Go-rivalling business in 2019.
"With this project, we are once again proving that we are one of the most innovative companies in Germany when it comes to supermarket shopping. But that means more than a purely high-tech focus," said Rewe divisional director Peter Maly.
"For us the main focus is on the shopping experience of our customers and the feedback we receive from our colleagues during their daily work in the store. In theory, many processes and procedures can be simulated – but in the end what counts most are the people, interaction, and personal feedback," he added.
Read more:
Trigo's technology allows for stores to retrofit the technology, unlike Amazon Go stores which are fitted with the tech before opening.
Although the technology allows for the removal of checkouts, Rewe is taking a hybrid approach with regular checkouts still available for shoppers who prefer the option. Rewe has committed to keeping the same headcount of staff – around 13 on the shopfloor and a manager – employed at the store. The workers council was fully involved throughout the project.
The technology is also GDPR compliant, Trigo said, and doesn't use facial recognition nor capture biometric data or hold any direct identifiers of customers.
"Rewe has placed its trust in Trigo's privacy-by-design architecture, and we look forward to bringing this exciting technology to German grocery shoppers," said Michael Gabay, Trigo co-founder and CEO.
Checkout-free stores are expected to process nearly $400bn of transactions by 2025, according to Juniper Research.
The best-known user of the technology – Amazon – has launched three checkout-free Amazon Fresh stores in the UK in recent months. The first in Ealing was Amazon's first physical retail site outside North America. A second opened weeks later next to Wembley Stadium, followed by another in White City. More Amazon Fresh stores are expected in coming months "in the Greater London area" Amazon said.
Trigo raised $60m in a series B funding round in December, bringing total investment in the Israeli business to $94m.